The best bike racks have evolved into several build options and qualities just like the bikes and vehicles they are used for. There are budget and premium options, and we now have several sub-types that will suit different types of vehicles. Consumer Reports has a lot of biking enthusiasts in its office, so they went ahead and arranged this roundup for our benefit.
Consumer Reports rated its recommendations based on key factors such as weight capacity, durability, and assembly difficulty. Price is also a major consideration, but many of the top offerings can be considered as investments because of their price and what they offer. Don't worry though since there are budget options there that will get you and your bikes from one place to another.
The Best Bike Racks 2022
Here are the highly recommended Bike Racks from Consumer Reports and its biking enthusiast staff members:
Kuat NV 2.0 ($849 Plus $598 for NV 2.0 Extension Add-On)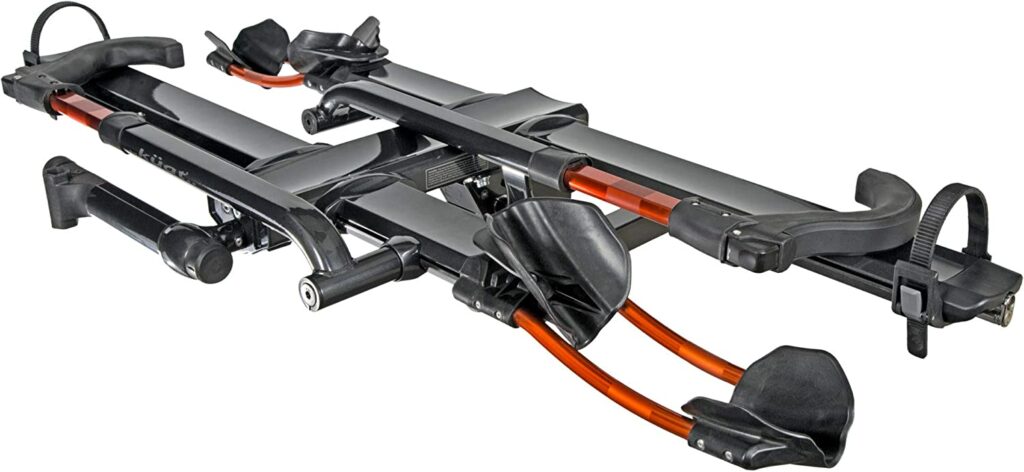 Bike Capacity: 2-4
Bike Weight Capacity: 60lbs per Bike or 40lbs per bike with extension
Rack Weight 58lbs for NV 2.0, Plus 38lbs with Extension
The Kuat NV 2.0 is downright very expensive, but it's the current top pick in the best bike racks category plus its Consumer Report's editor's choice winner. It's a well-engineered platform hitch rack with solid material selection. It is very easy to use and it doesn't shake or bounce while you are driving and it uses a smart ratchet tie-down system that won't damage your bike.
The NV 2.0 is heavy, especially if you add its extension kit which allows you to carry two more bikes for a total of four. However, it can be tilted down so opening your tailgate or door won't be too difficult and complex. It's also quite long and wide if you have the extension kit so you might want to consider that when you back the car up.
The Kuat NV 2.0 is, as mentioned, very heavy and bulky so might need an extra pair of hands to set it up. The whole thing with the extension weighs up to 96 pounds and 52 pounds without it, so might still be too heavy for some individuals. It's a great option, but the biggest gatekeeper for it is its steep price which goes up to a grand and a half.
Thule EasyFold XT ($900)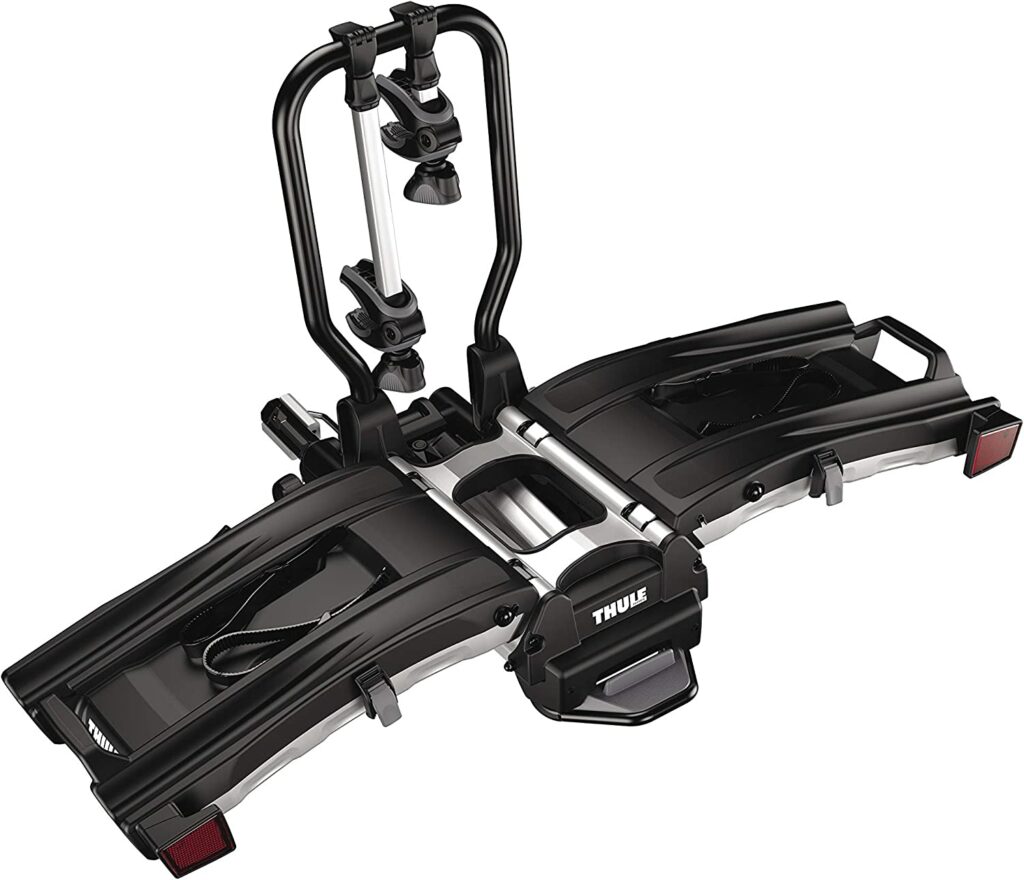 Bike Capacity: 2
Bike Weight Capacity: 65lbs per Bike, 130lb Total
Rack Weight 43lbs
The Thule EasyFold XT is one of the best hitch-mounted bike racks in the market thanks to its incredible design and premium build quality. It's one of the few that features a ramp to lessen the trouble of mounting and dismounting your bikes. It is more compact and lightweight than the option above, so it's more ideal for smaller cars but still better suited to SUVs.
Consumer Reports liked that it is easy to assemble even if you don't have anyone to help you put it together. It only weighs 43 pounds, so a healthy individual can easily attach it to a car's tow hitch. It also uses well-placed ratchet straps so your bike doesn't bounce around while you are driving on the road.
The only issue with it aside from its steep price is it is still a bit narrow and short for a rack that holds two bikes. Its built-in ramp can also be troublesome if your vehicle has high ground clearance, but we imagine that it will be more difficult to load it up without it. You can also drop it out of the way to access your cargo area, and it has a license plate adapter so you can relocate your plate.
Bell Right Up 350 ($160)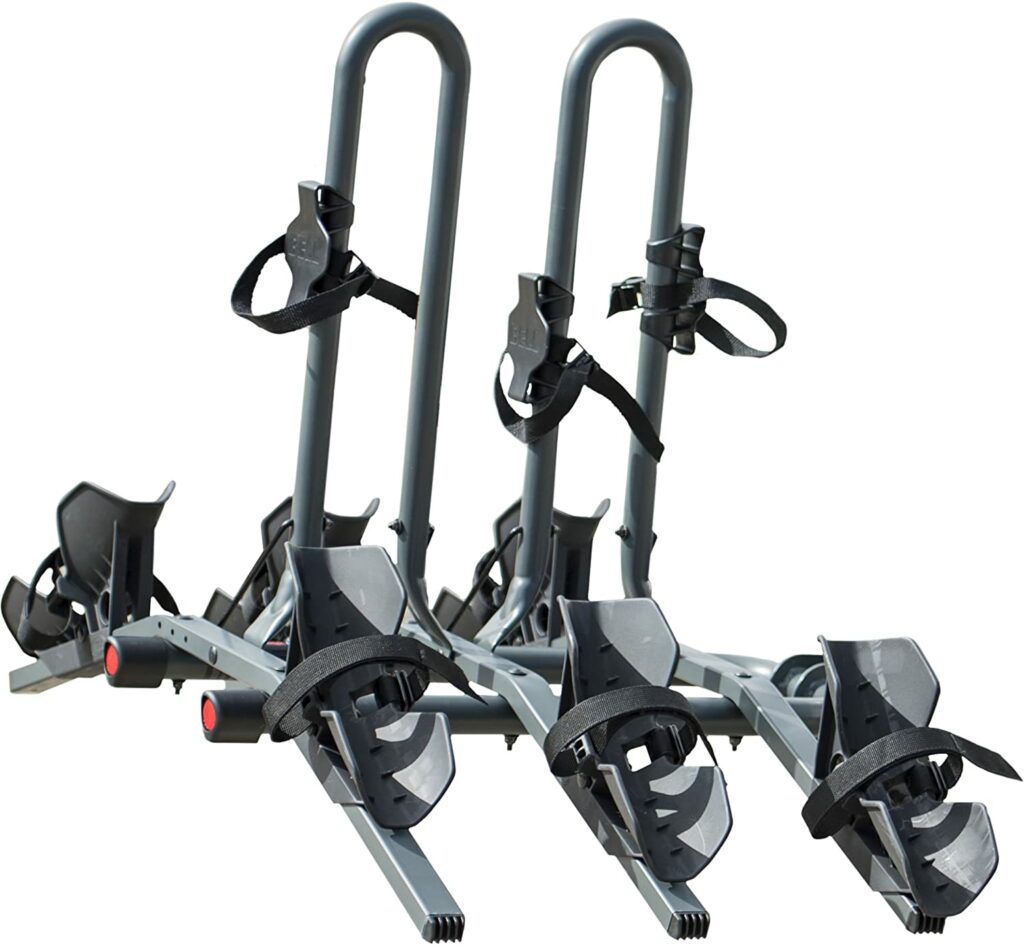 Bike Capacity: 2
Bike Weight Capacity: 35lbs per Bike, 105lb Total
Rack Weight 25lbs
The Bell Right Up 360 is an affordable hitch-mounted bike rack that's lightweight while having the capacity for up to three bikes. It doesn't feel like it's made of premium quality, but it gets the job done sufficiently. It is easy to mount to your vehicle, but it is not completely tool-less so might have to apply some elbow grease to get it going.
What's great about it it's fairly easy to load your bikes onto it and secure it with the built-in Velcro straps. However, it's not the most secure design on the market, so your babies can bounce around or shake if you hit potholes or ramps. But if that doesn't bother you, then this cheap option will serve its purpose.
As such, Consumer Reports recommends this as an entry-level or occasional use option for vacations or short trips. It's a functional solution that won't cost you an arm or a leg, but it is not the best choice for enthusiasts who regularly load expensive bikes.
Race Face T2 Tailgate Pad ($199)

Bike Capacity: 5-6
Bike Weight Capacity: N/A
Rack Weight 5-7lbs
The Race Face T2 is the perfect fit for bikers who own compact, midsize, and full-sized pickup trucks. Setting it up is as easy as draping a blanket on your tailgate so it only takes a few minutes to install on your bed. The real challenge is lifting your bikes in there, especially if you have a lifted truck.
Pads aren't as solid as a true rack, but it works great if you are carrying bikes for everyone. Resting each one on the other will make the setup more stable. It holds the bike with a slot that was meant for downtubes, but the added weight of another unit resting on top will lessen movement while you are driving.
It is readily obvious that you need extra care when loading up the bikes since they don't have stanchions to hold each one in place. It also doesn't have a secure locking mechanism to the bed so adding cable ties with keylocks will prevent it from getting stolen.
Yakima FullSwing ($649)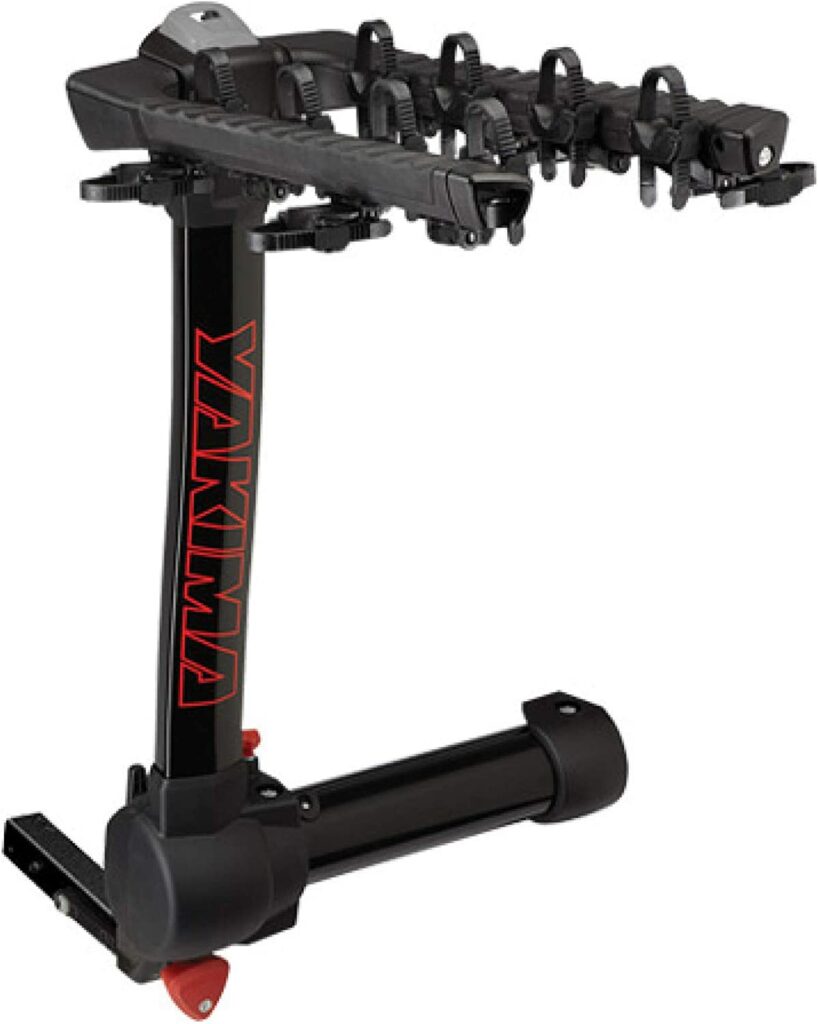 Bike Capacity: 4
Bike Weight Capacity: 30lbs per Bike, 150lb Total
Rack Weight 55lbs
The Yakima FullSwing hanging rack is your best bet for recreational trips with your family. It holds up to four bikes that weigh up to 40 pounds each and they are mounted quite high so it is impossible for them to scrape the ground if you climb a steep incline. What's great about it is its spacing can be adjusted since the U-shaped fasteners can be moved around.
However, Consumer Reports still recommends adding some cable locks to add more security since the fasteners are made of plastic. But on a positive note, its overall build quality is solid, and you can swing it away to access your cargo area. It's impossible to detach it when bikes are mounted, so this is a welcome feature for when you are loaded up and on a trip.
The Yakima FullSwing isn't perfect even if it's pricey, but its refined quality is worth the price according to Consumer Reports. It is solid and functional, so it should be a great buy if you have kids who also enjoy biking.
Allen Sports Deluxe ($106)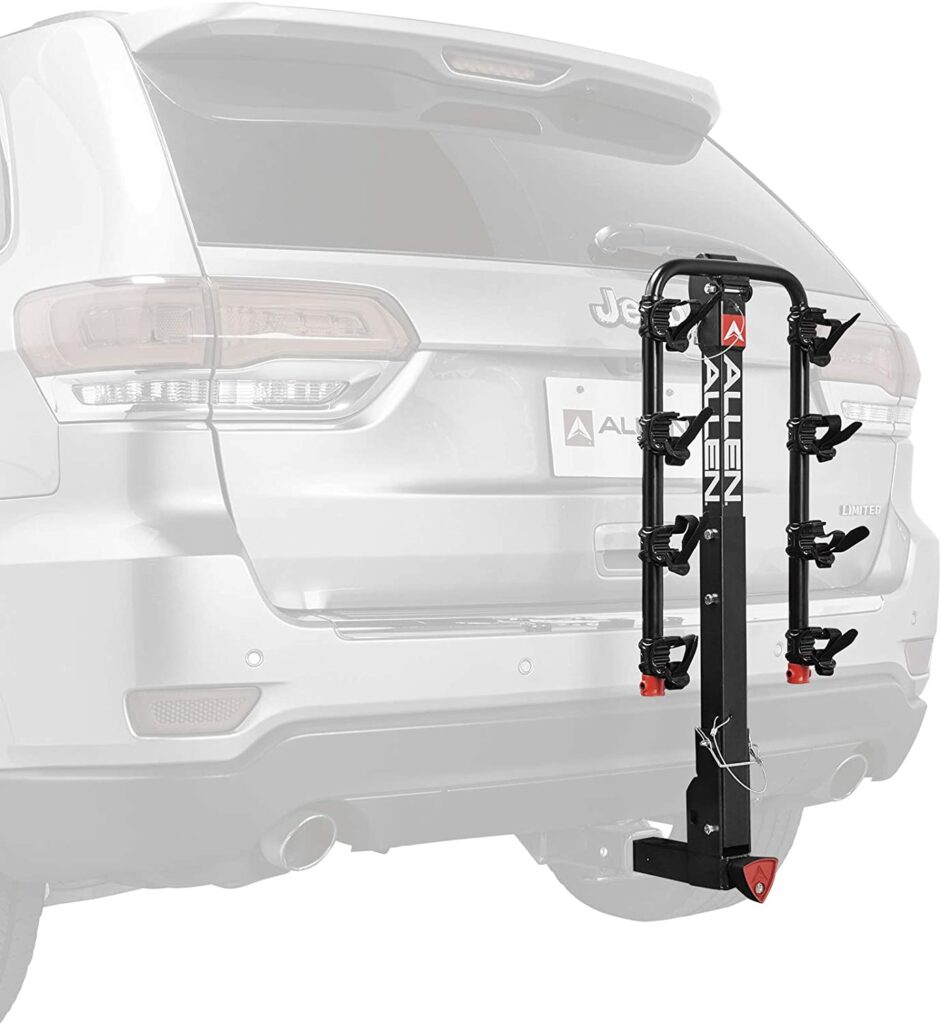 Bike Capacity: 4
Bike Weight Capacity: 140lbs Total
Rack Weight 20lbs
The Allen Sports Deluxe hanging rack is the cheapest option that is lightweight while being able to hold up to 4 bikes that weigh 140lbs in total. It only weighs 20 pounds, and it's very easy to assemble and set up without help. It also attaches to a tow hitch, but the hanging design needs extra care when you are loading and unloading your bikes.
It's a big bonus that the Alle Sports Deluxe can be tilted away so you can get access to your cargo area or flatbed. Most of the cheaper options don't offer that, so you might want to consider that if you need an inexpensive option for occasional trips. The rack can also be flipped so it has more clearance from your tailgate.
Its build quality is decent for the price, but you must take some extra effort into securing your bikes. Adding some padding or cables for long trips will be worth it. Hanging bike racks like this can make the bikes rub against each other.