Air Fryers are quickly becoming one of the kitchen essentials alongside the more common microwaves and coffee makers, especially this year. They make effortless meals that are crisp and healthy with minimal effort, putting less oil and fat into your gut. They can be used to make a full meal or they can lessen the time you spend in the kitchen preparing snacks for your kids or loved ones.
Updated: January 2022
The current COVID-19 crisis has also dictated that its best to stay home, so dining out is less of an option for many of us. Cooking your own meals is now a must-have skill, so you can create and share gourmet meals in the comfort of your own home. Air Fryers are an essential part of that, especially if you want to cook perfect Thai spring rolls or buttered chicken.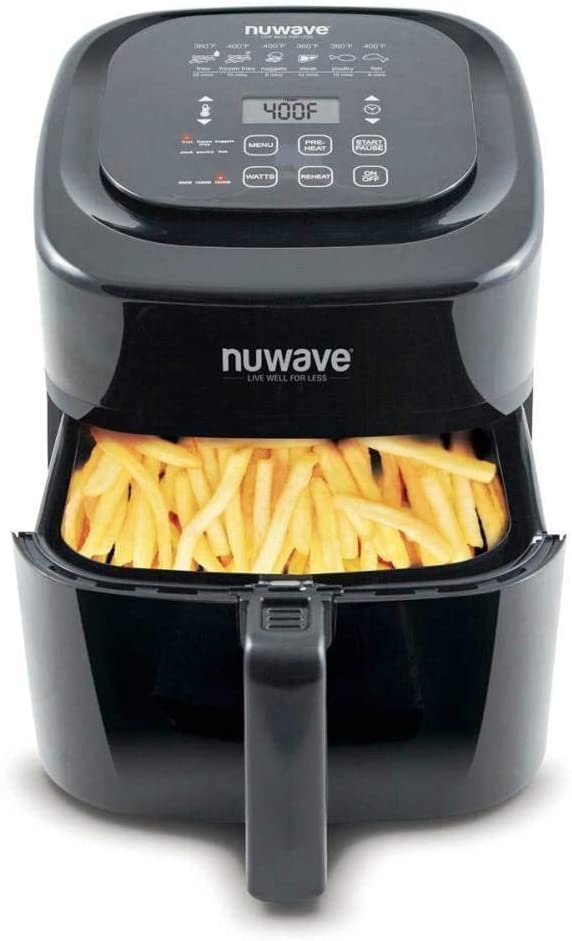 Air Fryers don't have to be expensive according to Consumer Reports which has tested and recommended the best in the market. You'd be surprised that you can get a decent unit for as low as $70, while top-rated variants like the NuWave 37001 are sold at a very reasonable $130. You don't have to go with the very high-end, although digital controls, plenty of presets, and cooking tool extras are nice to have.
Air Fryer Frequently Asked Questions
Q: Are Air Fryers Easy to Maintain and Clean?
Air fryers are very user-friendly and there are many variants that have dish-washer safe parts such as the frying basket. You only have to wipe the pot clean, so getting your hands wet and using dish soap will be minimal most of the time.
Q: Can Air Fryers Be Used for Anything Other than Fried Food?
You'd be surprised that some air fryers can actually be used to bake a cake if you have the right cookware. If you have a pan that fits in the basket, you can preheat it and make the cake as if you were using an oven. Some models can prepare it in as little as 20 minutes at 350ºF. Take note that most of the cookware extras that are compatible with your chosen air fryer are also sold by its manufacturer for a decent price.
Q: What's the Best Air Fryer?
Consumer Reports highly recommends the NuWave 6-Quart 37001 air fryer due to its potent 1800-watt capacity and reasonably-large basket. It can fry up to 4 pounds of fries or 4 chicken breasts at a single time while being the easiest to clean.
You can also check our Best Air Fryer Guide that contains many of Consumer Report's recommendations that contains popular models along with some budget to high-end choices.