Air Fryers are a popular upgrade to your kitchen since they make it easier to cook crispy fried food with little to no oil. That premise is what makes the gadget so popular since it makes healthier fried food without the added mess. Several makes and models naturally follow that demand with many offerings, but thankfully, Consumer Reports is here to make it easier to choose.
Air Fryers work by circulating hot air to swiftly cook and crisp your food in its basket without the help of oil. Its also useful for baking and reheating food, making them even more invaluable to a well-equipped kitchen.
Why Trust Consumer Reports
Consumer Reports bought and thoroughly tested 25 air fryers from 21 brands which include popular names such as Cuisinart and Hamilton Beach. The testing was done in a controlled laboratory environment to give you the best and most accurate answer possible. Several batches of French fries, chicken wings and chicken nuggets were used to test each product's ability and effectivity.
During the course of testing, Consumer Reports found out that despite the varying total cooking times, the taste and overall results were the same. There are slight differences in browning, but the test group did not discern any major differences in the food. They also evaluated noise and ease of use, so that factors into the scores for each model recommended below.
Consumer Reports has rated and ranked the best air fryers below, but they mentioned that there are some things to consider before shopping:
Air Fryer Capacity – Most of the tested units have between 2 to 5.8 quarts capacity. Some are not big enough to cook for a group, So Consumer Reports recommends cooking in batches. The reason being is that if the basket is too crowded, your food will not cook evenly.
Pricing – These Air Fryers cost anywhere from $55 to as much as $200, but there are very expensive models out there that go all the way up to $300.
Warranties – Warranties naturally vary as well between manufacturers, so its best to find out how long yours is protected from flaws or premature failure. Some models are only covered for 60 days, so it might not be the best air fryer for you even if its very affordable.
The Best Air Fryers Recommended By Consumer Reports
NuWave 6-Qt. 37001 (75) – $130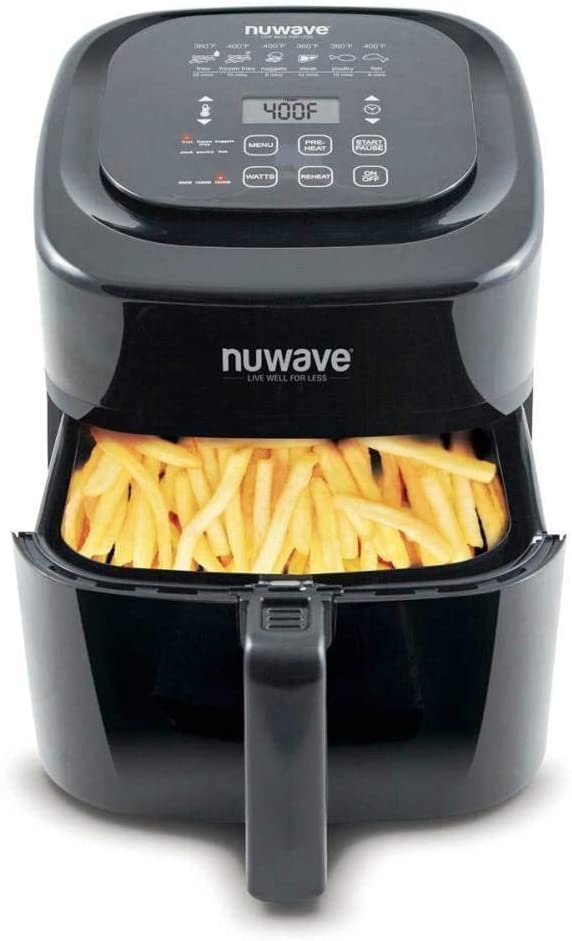 6 Quarts
1800 Watts
14″ x 11″ x 16″/15 lbs
The NuWave 6-Qt. 37001 is an easy to use and clean 6-quart air fryer that is rated the best in performance and quality. It has the biggest capacity in the lineup, allowing you to cook up to 4lbs of fries or 4 chicken breasts at the same time.
GoWise GW22731 (73) – $70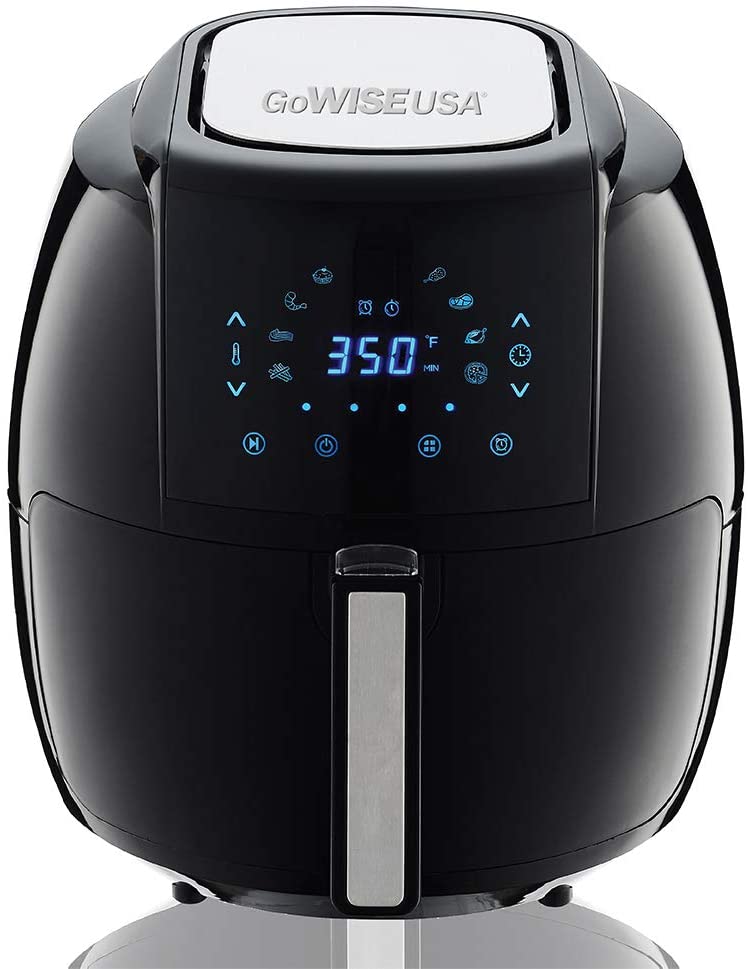 5.8 Quarts
1700 Watts
14″ x 12″ x 15″/12 lbs
The GoWise GW22731 is an affordable option with an intuitive touch screen along with eight effective cooking presets. What's great about it is it runs very quiet so you can focus on your other kitchen chores while you leave it to do its job.
NuWave Brio Air Fryer 36011 (73) – $100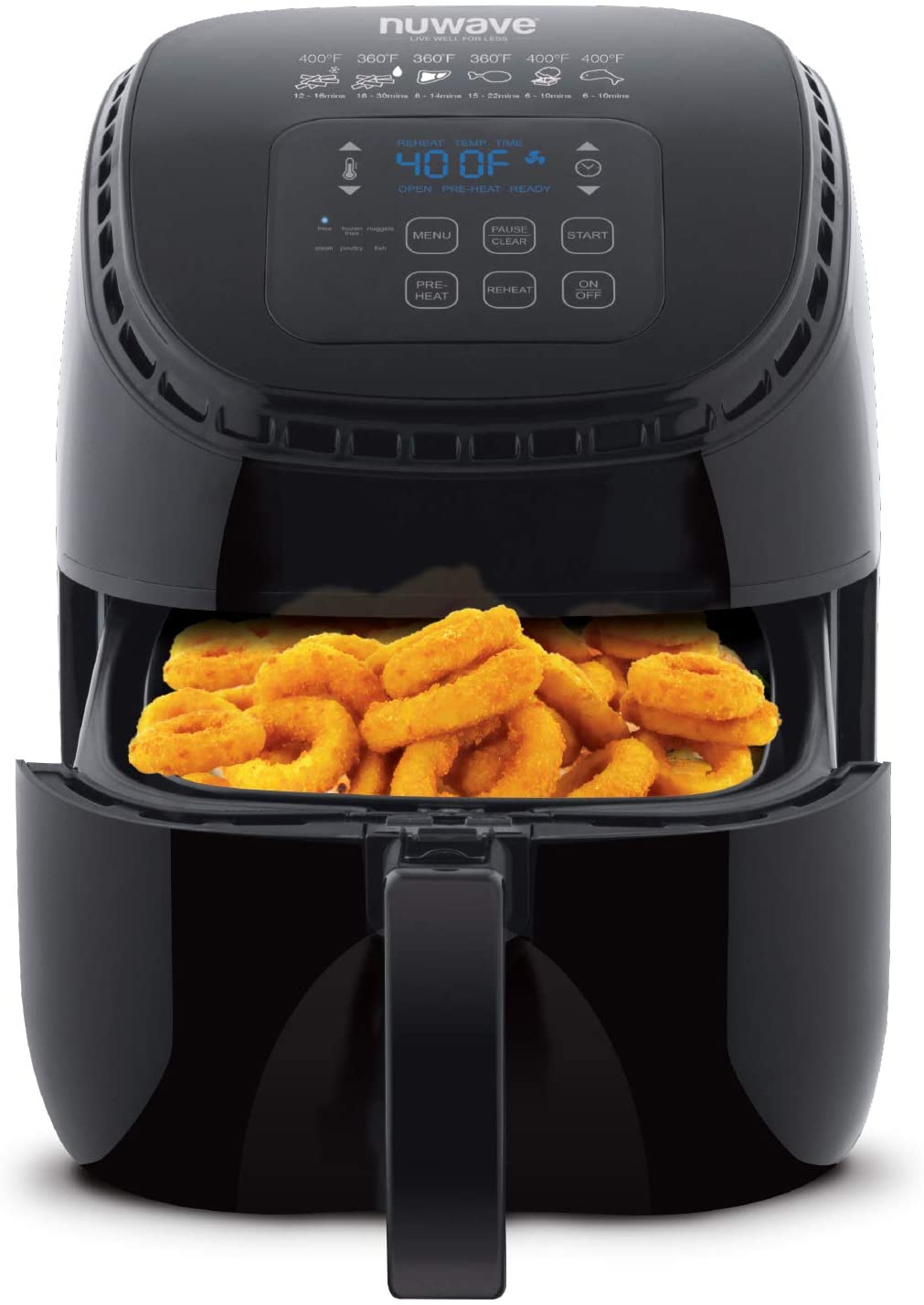 3 Quarts
1300 Watts
13″ x 10″ x 14″/12 lbs
The NuWave Brio Air Fryer 36011 offers fantastic cooking accuracy since you can control pretty much everything via its touch screen controls. It has a temperature control with 5-degree increments that range between 100°F to 400°F along with 3 wattage control settings.
Ninja AF100 (71) – $100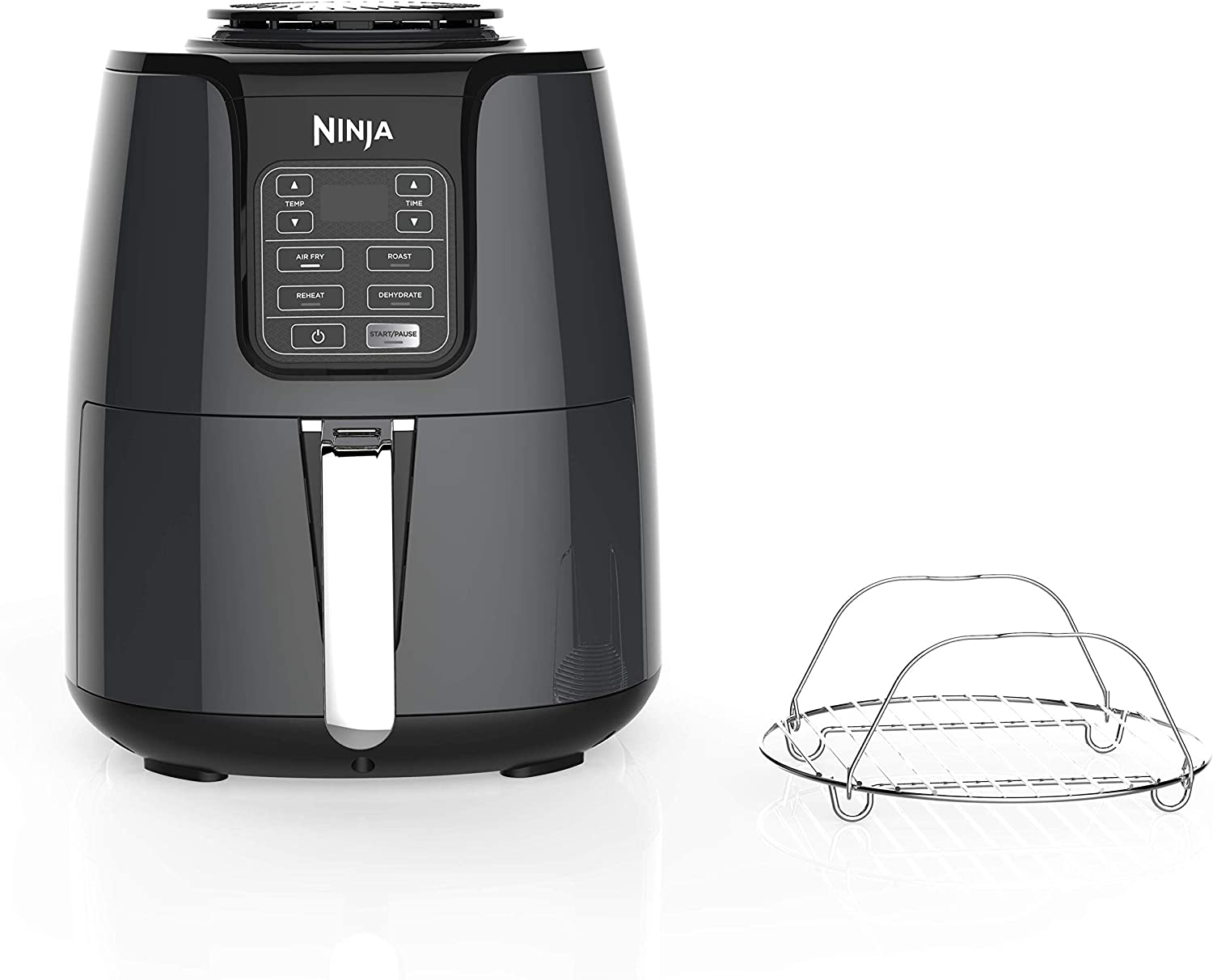 4 Quarts
1550 Watts
13″ x 11″ x 14″/10 lbs
The Ninja AF100 is perfect for apartments since it's compact, very easy to use, and uncomplicated to clean with its dishwasher-safe parts. Its got a high-heat 1550w base, making it very powerful at not just frying, but dehydrating food as well.
Farberware HF-919B (71) – $70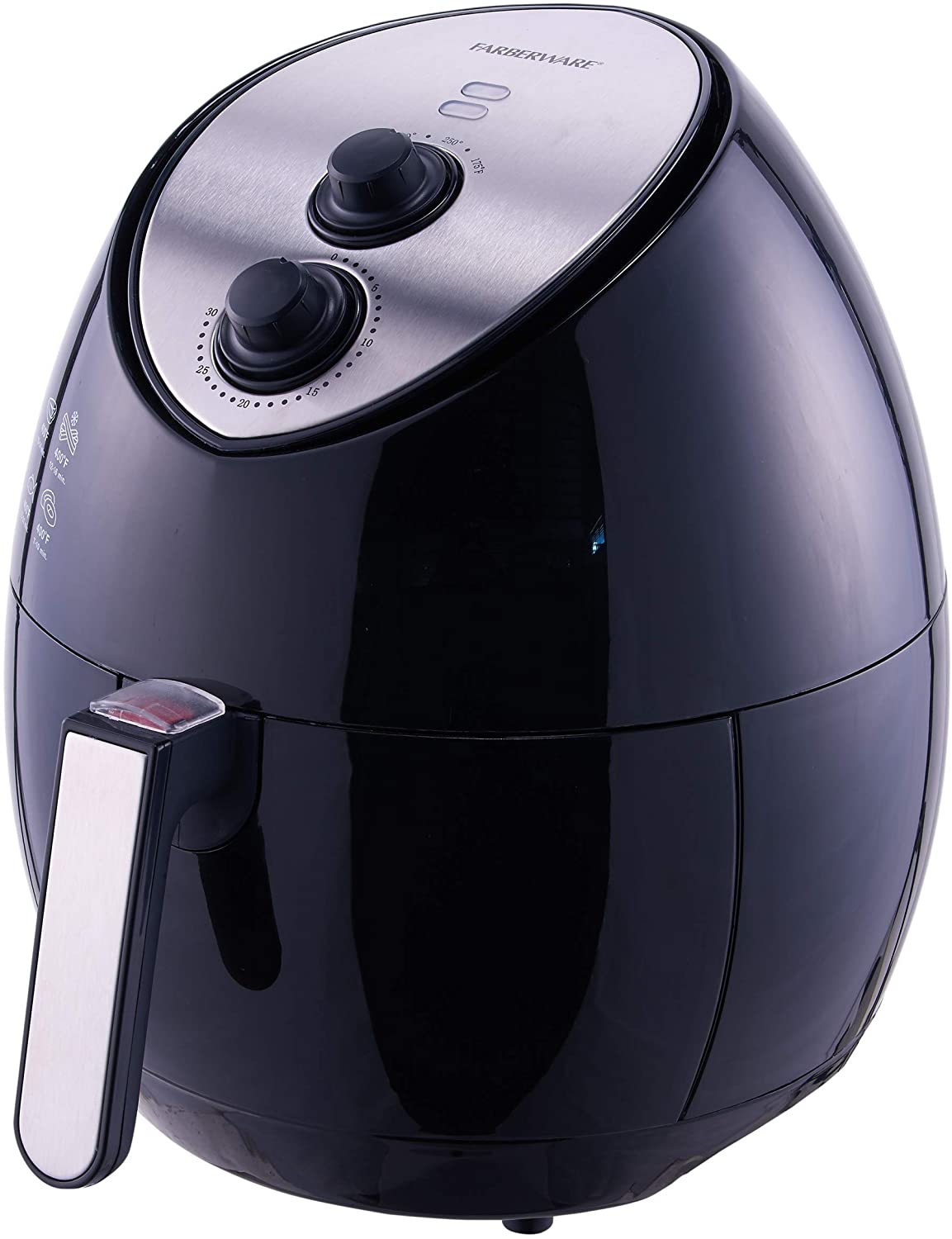 3.2 Quarts
1400 Watts
14″ x 12″ x 15″/10 lbs
The Farberware HF-919B doesn't have digital controls, but it's quite powerful when it comes to heat generation for such a small device. This model is also one of the cheapest in the lineup, making the benefits of air fryers reachable for a wider audience.
Farberware 3.2 Quart Fryer FT42138 BK (71) – $70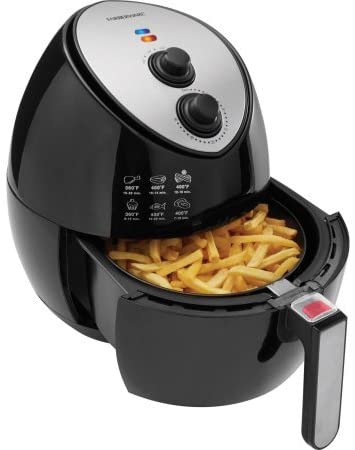 3.2 Quarts
1400 Watts
14″ x 12″ x 15″/10 lbs
The Farberware 3.2 Quart Fryer FT42138 BK is another affordable option that's compact and equipped with reliable mechanical controls. This model also heats up quicker and hotter than most of the models in the lineup, making it great for meals on the go.
Elite Platinum EAF-1506D 3.5 Qt. Digital (71) – $95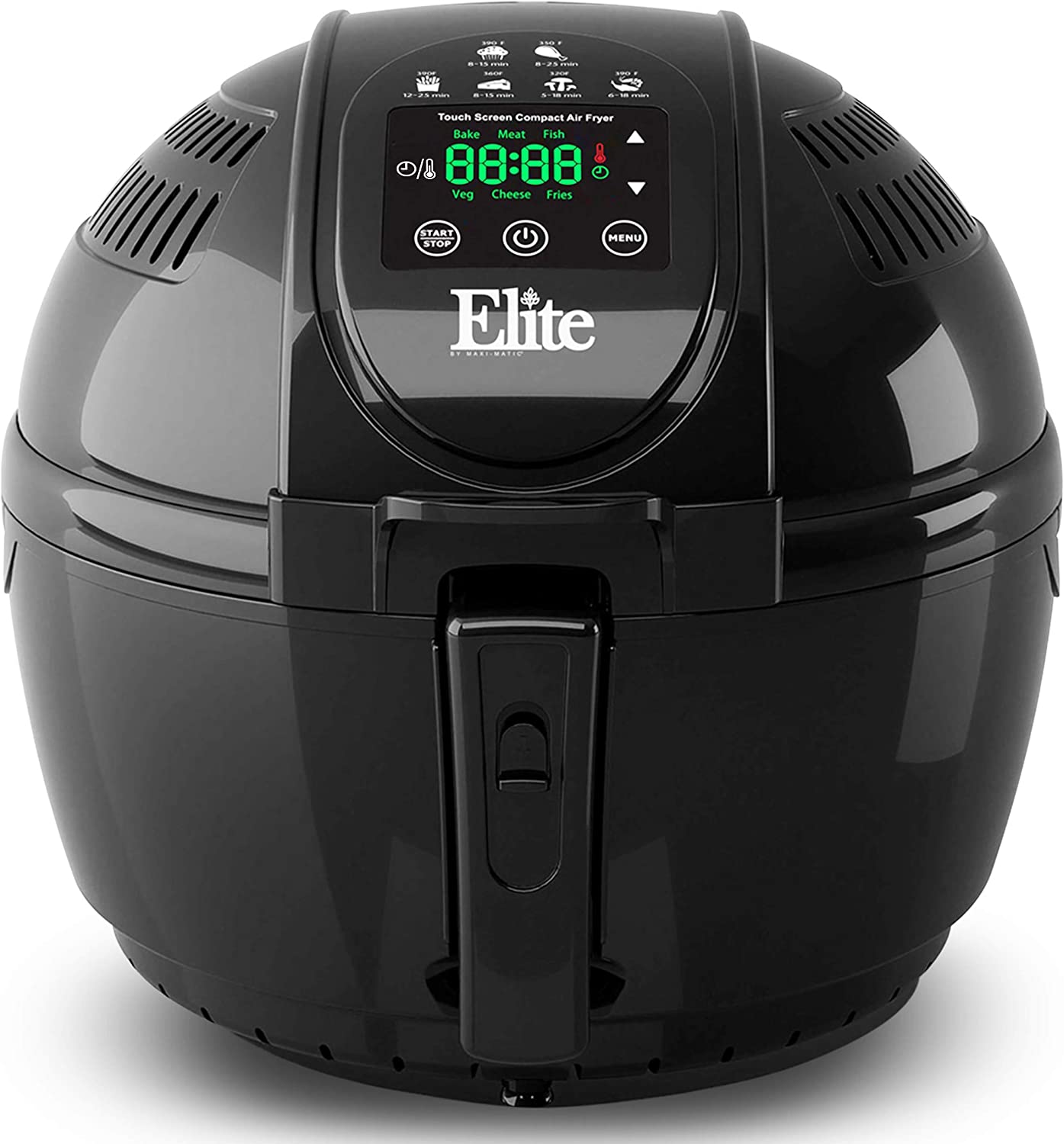 3.5 Quarts
1400 Watts
11″ x 12″ x 16″/12 lbs
The Elite Platinum EAF-1506D is a good investment since it does a good job at just about every crucial aspect of Air Fryers according to Consumer Reports. It's quiet, easy to use and clean, but what stands out about it is its accurate temperature controls which helps in cooking the perfect meals.