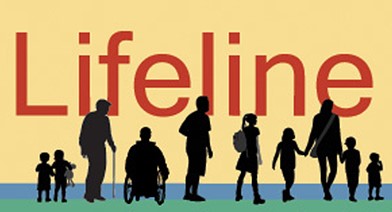 It's easy to find out who qualifies for a free government phone, especially if you already have one type of government aid like food stamps or SSI. Those with low income also qualify, but their salaries need to be 135% of the current federal poverty guidelines. It's easier than you think, but you need to gather some documents and exert effort to enjoy this benefit.
Millions of Americans are already enjoying the Lifeline Program whose aim is to connect needy citizens with opportunities and loved ones. The service has existed since the 1980s, and it is continually expanding to serve more people in the USA. It's fairly easy to get a free phone with calls, texts, and data, but you have to do your part to get it.
How Does the Lifeline Program Work
The Lifeline Program is a federal aid initiative that provides means of communication for individuals and families who cannot afford it. It started during President Reagan's term and it has been helping Americans since then. The government funds it, but its execution relies on partnered telecommunications businesses.
It works just like any phone subscription, although the difference is in the requirements or criteria of eligibility. You need to apply personally and submit your documents to prove that you qualify for this program. Regular phone plans need proof of financial capability while the Lifeline Program needs the opposite.
Once approved, your chosen service provider will mail the phone and sim card to the address you used for registration. You can then start using it as soon as it's activated, but you need to be mindful of the allocated text, calls, and data allowances. This service is completely free, although you can choose to avail of discounts on monthly fees or devices depending on the carrier you choose.
Who Qualifies for Free Government Phone – Participants in Government Assistance Programs
Those who qualify for a free government phone usually have an existing aid benefit such as food stamps. The government figures that if you get food stamps, you should qualify for a free phone. You will need a copy of your approval letter or your ID card from that service and include them in the application.
Each state has different rules and government programs, but these are the most commonly used by people who qualify for a free government phone:
Note that some states have specific aid programs which you can also use to qualify. You can also utilize disability or veteran assistance, so be ready with the necessary information and documents.
Who Qualifies for Free Government Phone – Low Total Household Income
You can use your household income if you do not have any of the benefits listed above to qualify for a free government phone. However, it needs to be below your state's Federal Poverty Guidelines before you can avail of this support program. Note that all of the incomes generated by your household, including your spouse's or your dependents, are calculated.
This includes taxable and non-taxable income such as dividends, inheritances, social security, pensions, etc. However, monetary sources like student aid, military housing assistance, and small cash jobs are not included in your household income. You can use payslips or tax return forms if you want to apply using this method.
Basic Rules for Those Who Qualify for Free Government Phone
The three basic things you have to remember when you eventually qualify for free government phone service are:
Only one Lifeline Program account is allowed for your whole household
You can only have one phone and line at a given time
This benefit is non-transferable