The Sony XBR-65A1E is a distinctive 4k UHD OLED TV that offers top-ranking imaging performance and sound quality, making it a favorite for Consumer Reports. The super slim TV incorporates a unique and contemporary design that is supposed to look as good as its picture output. The Sony XBR-65A1E is the best for Consumer Reports when it comes to pure picture quality, so let's check out what the firm has to say about this high-end model.

Sony XBR-65A1E Consumer Reports Ratings
Predicted Reliability: Very Good
Owner Satisfaction: Excellent
HD Picture Quality: Excellent
Ultra HD Picture Quality: Very Good
HDR: Very Good
Viewing Angle: Excellent
Sound Quality: Very Good
Motion Blur: VeryGood
Versatility: Very Good
Energy Cost/Year: $29

Sony XBR-65A1E Specifications
Screen Size: 65 Inches
Resolution:3840 x 2160
Aspect Ratio: 16:9
Panel Technology: OLED
Refresh Rate: 120 Hz
VESA Compatibility: Yes 400 x 200
Connectivity: HDMI 2.0 x 4, USB 2.0 x 3, Optical x 1, RJ45 x 1, 3.5mm Jack x 1, Remote RS-232C, Remote IR In
Dimensions With Stand(WxHxD): 57.25″ x 32.88″ x 13.38″
Weight: 79.8lbs

Sony XBR-65A1E Design
The Sony XBR-65A1E's aesthetics is a sight to behold, making it an ideal centerpiece for your living room. The frame is unimaginably thin-looking, while the stand is meant to be concealed from the front to give the device a floating appearance. This part also holds a subwoofer to give the audio quality a bit of rumble and depth.
What makes the Sony XBR-65A1E unique is its Acoustic Surface technology which uses vibrating actuators on the panel to create sound. The output quality is surprisingly crisp and clear, plus the definition is well-taken care of since the lows go through the built-in subwoofer.
The Sony XBR-65A1E is a Google Android Smart TV, giving near infinite access to streaming services and Google Play apps. You also won't need a separate gadget like the Chromecast, since this model already has Google Cast for mobile streaming built in.
There are four HDMI 2.0 slots on the rear panel which can accommodate your various devices such as 4K HDR gaming consoles and a Blueray player. Audio connectivity doesn't include an option for component, but the optical port should suffice for most setups.
Consumer Report's Testing and Feedback on the Sony XBR-65A1E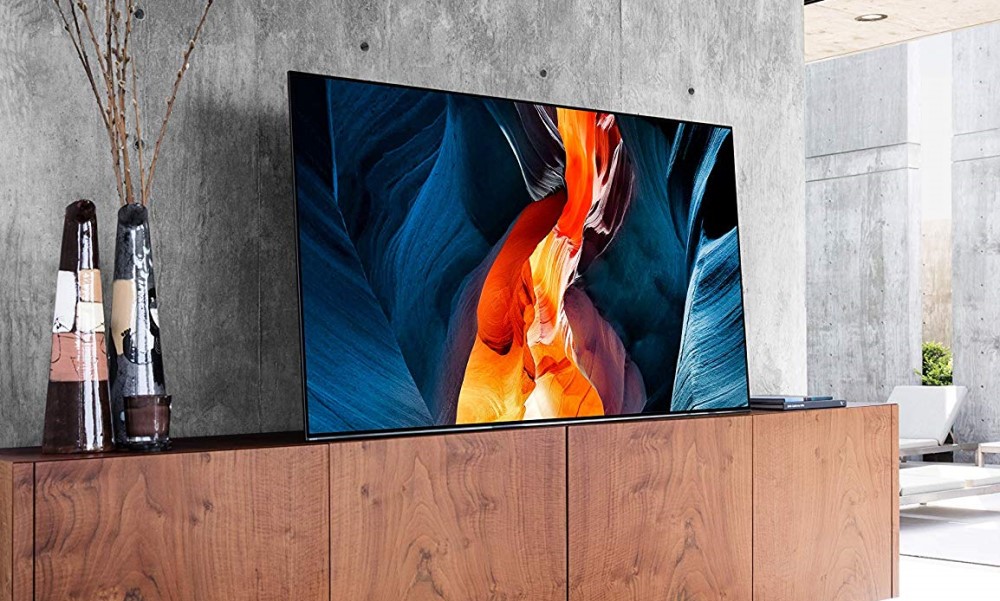 The Sony XBR-65A1E is a flagship model, and it's one of the few that offer a complete and compelling sensory experience. The device features a 4K OLED panel that is very capable in producing true HDR effects, along with excellent clarity in both 4K and 1080p formats. The only limitation Consumer Reports highlighted is the lack of an option to set optimized settings for both HD and HDR, since having one active will mess up the other.
This model shines if you use a 4K HDR source such as Netflix's premium plan or a dedicated home theater setup. The Sony XBR-65A1E is capable of excellent definition between light and dark highlights that go well with its fantastic saturation and clarity. The glossy treatment on the screen enhances these qualities, but be wary of lamp placement since it doesn't offer any protection from reflections.
The Sony XBR-65A1E is a great 4K HDR TV for gaming since it got one of the best motion handling capabilities in the market. Sony's Motionflow technology is one of the most effective implementations Consumer Reports has tested, while many competing models failed to impress. The TV also includes a Clearness setting to further enhance the image, but it induces a mild flicker along with reduced brightness.
You have to dial in a few settings to enhance the Sony XBR-65A1E's color accuracy. Consumer Reports tested this model in their laboratories and found that you only have to set these options once, unlike other TVs which will require constant calibration if you switch filters.
Here are Consumer Report's preferred picture settings for the Sony XBR-65A1E:
Picture Mode: Custom
Contrast: 100
Black Level: 53
Gamma: 0
Brightness: 27
Color: 50
Hue: 0
Sharpness: 45
Color Temperature: Expert1
X-tended Dynamic Range: High
MotionFlow: Standard
HDR Mode: Auto
HDMI Video Range: 0
ColorSpace: Auto
Consumer Reports recommends leaving other settings not listed at "off" or "0" to achieve the perfect visual output. The Sony XBR-65A1E's color temperature, if present with your firmware version, should be left at default so as not to affect the other options listed above. Consumer Reports used special test patterns and reference videos to achieve the best image fidelity, along with a professionally calibrated reference display for comparison.
The settings listed will also be the best medium for all source devices such as cable boxes and Blueray players. You can also use this formula as a template for your own tweaks if in case the imaging performance is different from your expectations or tastes.
Conclusion
Consumer Reports rates the Sony XBR-65A1E and its brand with an 8/10 predicted reliability score, whic his their highest so far. Owner satisfaction is on par with other top-ranking brands such as LG and Samsung at 9/10, meaning you will be happy with the investment on this model. These scores are based on a survey that covers almost a hundred thousand models, guaranteeing that they are not subjective or based on the tester's opinion alone.
The Sony XBR-65A1E is at the top of Consumer Report's list since it offers one of the best combinations of image and audio quality out of the box. The design is immaculately attractive, even if this is an older model. The Sony XBR-65A1E is an excellent buy if you want a centerpiece-level device which will impress and entertain at the same time.