Induction ranges are very popular now due to the unique way they cook food without using direct heat. These appliances run on the same electric line as a regular variant, but they have magnetic coils below the glass top. It sends electromagnetic pulses into compatible cookware to produce heat at a more efficient rate.
Food on induction ranges cook, boil, and simmer faster and steadily; the temperature changes are usually more accurate and instant. The magnetic coils do not give off heat, so there is less chance of a burning accident. The downside is it's usually pricier, plus most regular cookware won't work on it so you might have to upgrade yours as well.
Pros of Induction Ranges
Higher Efficiency – Induction ranges consume 5 to 10% less energy than a conventional alternative. They don't use gas, so they are better for indoor use, plus it takes less time to heat the cookware and food.
Safety – Induction ranges have a built-in safety feature wherein it doesn't get hot if a pot or pan is absent. It creates heat on the cookware, so the heating doesn't happen if the magnetic energy doesn't have contact. The glass surface also doesn't get as hot as it would on a regular electric range.
Faster Cooking Times – Induction ranges cook faster since you don't have to heat up your pan. The heating controls are also more responsive since power or heating levels change instantly.
Easy Cook and Clean – Food cooks more evenly on induction ranges, so there are fewer splatters or burns from soups and meat. Cleaning them is as simple as wiping down the ceramic glass surface with a towel once you are done.
Cons of Induction Ranges
Expensive – Induction ranges are more expensive by themselves, but that high expense usually comes with converting to them. Building an electrical circuit for it if you are coming from gas isn't exactly cheap since you have to hire a contractor for that.
Appeal and Experience – cooking on induction ranges can feel weird since the sights, sounds, and smells of a gas range. Cooking enthusiasts do not get the visual satisfaction of the flames, and it's sometimes impossible to know that it is turned on. Manufacturers are now adding lighting or virtual flames to products to counter this, but nothing compares to the real deal.
Buzz – Induction ranges usually have a hum or buzz while running. It's a minor issue, but it can be triggering for some, especially when the heating is turned all the way up.
Digital Thermometers – Digital thermometers won't work on induction ranges since the magnetic field they produce can affect them. You will need an analog version which is slower, but that's a minor issue.
Free-Standing Induction Ranges or Built-in Cooktops
Induction ranges are split into two types, starting with the free-standing models in this guide. All of them are 30 inches wide, which is standard, so they will fit into the kitchen slots meant for them, guaranteed. Consumer Reports recommends this type for limited spaces since even the smallest flats were made to accommodate them.
On the other hand, cooktops look so much better than their bulky, free-standing counterparts. However, unbeknownst to many is that they need more space for installation since you need to have a lot of countertop space for them. You must also consider that you will need a separate spot for an oven since cooktops only have burners.
You won't find that kind of accommodation in condos and apartments; you have to hire contractors for the installation itself. You will need an electrician, a kitchen installation professional, and sometimes a designer to make it all work. It's costly and tedious for most, so many prefer the free-standing induction ranges.
Best Induction Ranges 2023
LG LSE4616ST/LSE4617ST – (94) – $2298/$2799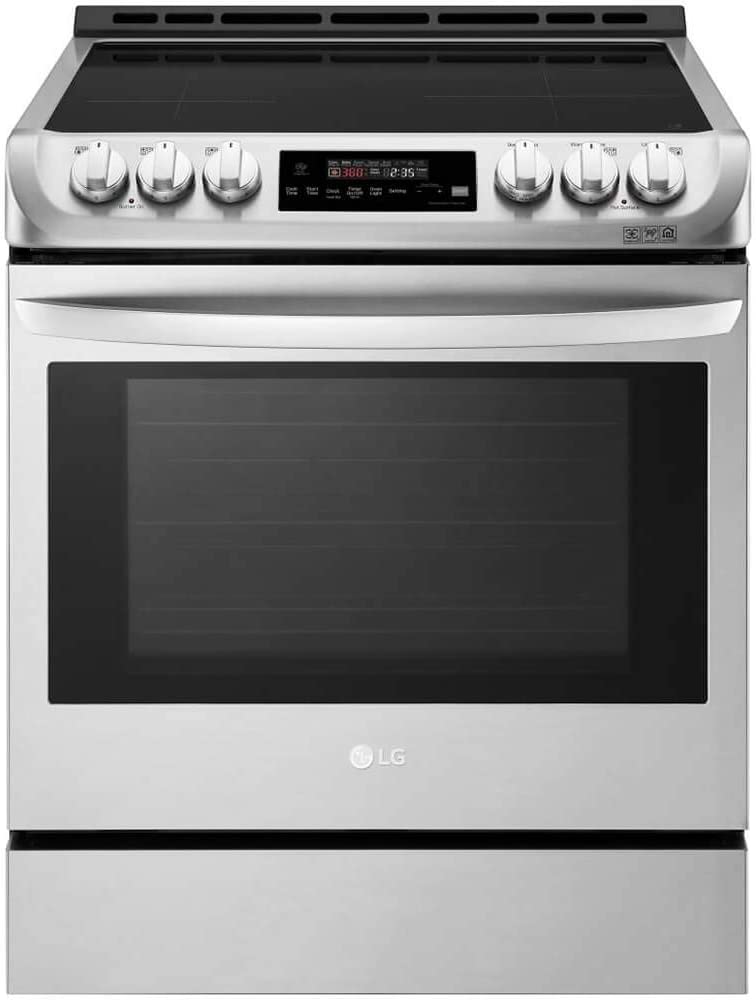 The LG LSE4616ST and LSE4617ST is the best overall option since they aced Consumer Reports' tests in cooking and capacity. Its low heat and high heat elements worked great, plus its oven has a cavernous capacity with five positions and a covered element. It can be controlled wirelessly, from its touchscreen or through manual dials.
GE Profile PHS93XYPFS (89) – $$3496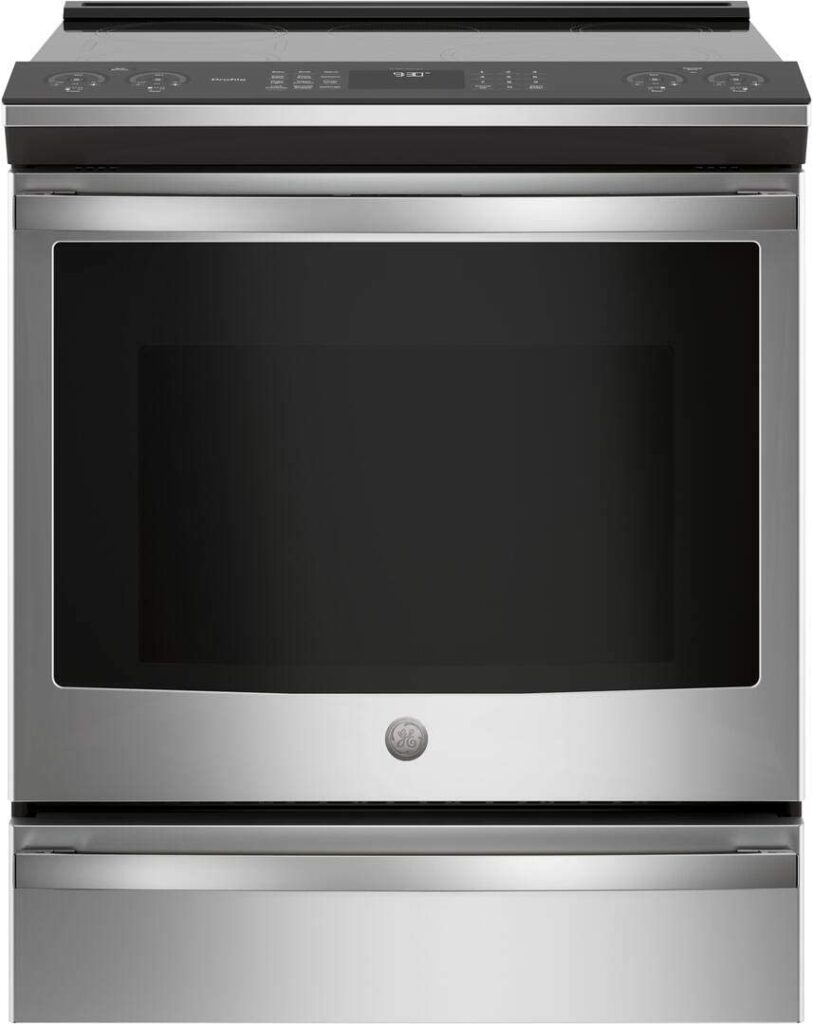 The GE Profile PHS93XYPFS is a nifty high-end option with creature comforts that you will love. It has an in-oven camera and a feature that lets you control the pan temperature directly on the cooktop elements. It also provides excellent cooking and baking results and is one of the most avante-garde-looking in the lineup.
Frigidaire Gallery GCRI3058AF (87) – $1193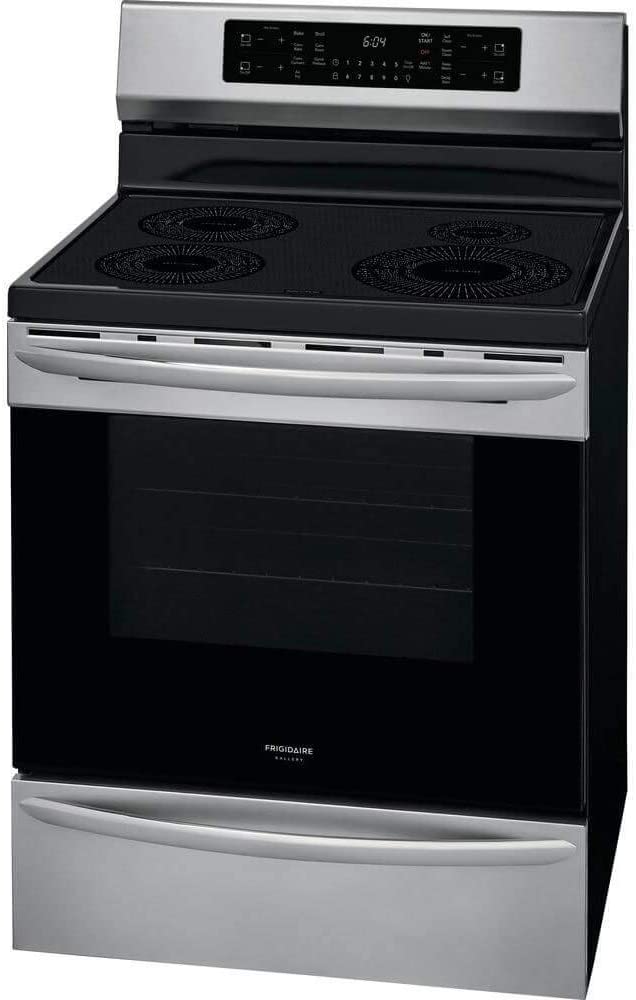 The Frigidaire Gallery GCRI3058AF is CR's Smart Buy pick because of its reasonable price. Its specs and performance are comparable to those above, like its cooking speed and inclusion of touchpads for setting the temperature and its cooktop controls. It's also designed to fit into modern kitchens with its minimalist aesthetic, although it doesn't have smart or wireless capabilities.
LG Studio LSIS3018SS (87) $2999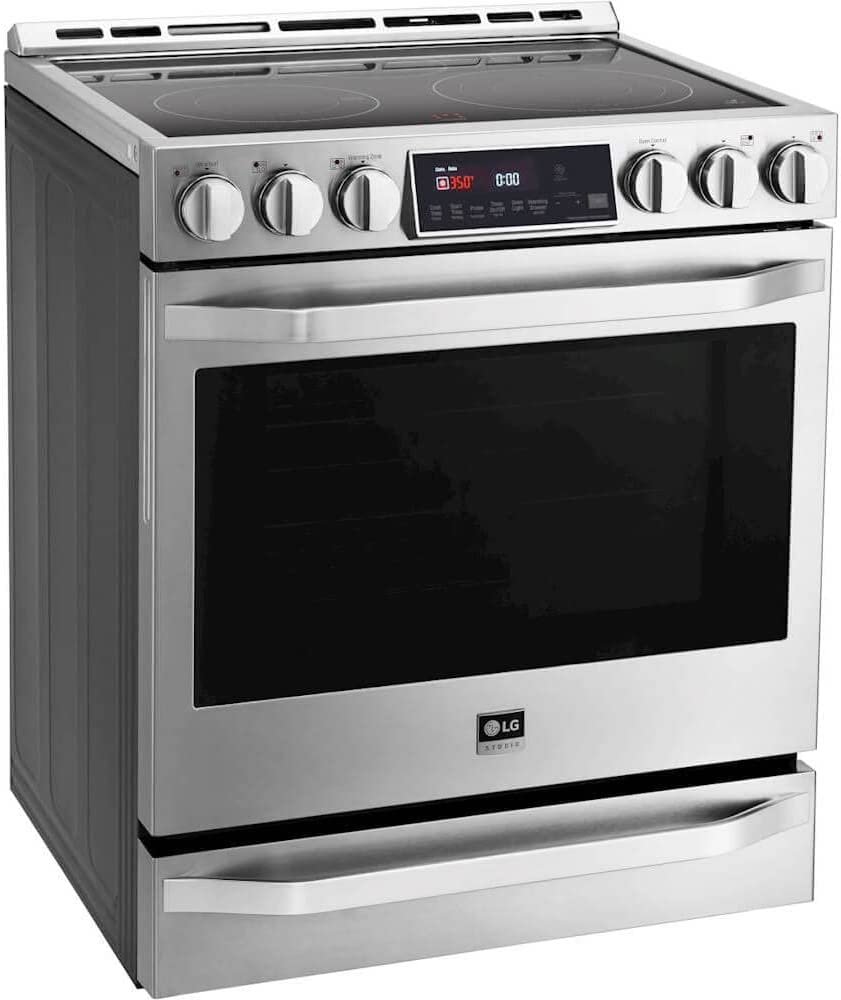 The LG Studio LSIS3018SS is Consumer Report's pick for those that want one of the newer smart induction ranges. It has all the necessary features but can also be controlled wirelessly from a smartphone. It rates excellent in cooking and baking tests and has gliding oven racks and a warming drawer.
Samsung NE63T8951SG (86) – $3818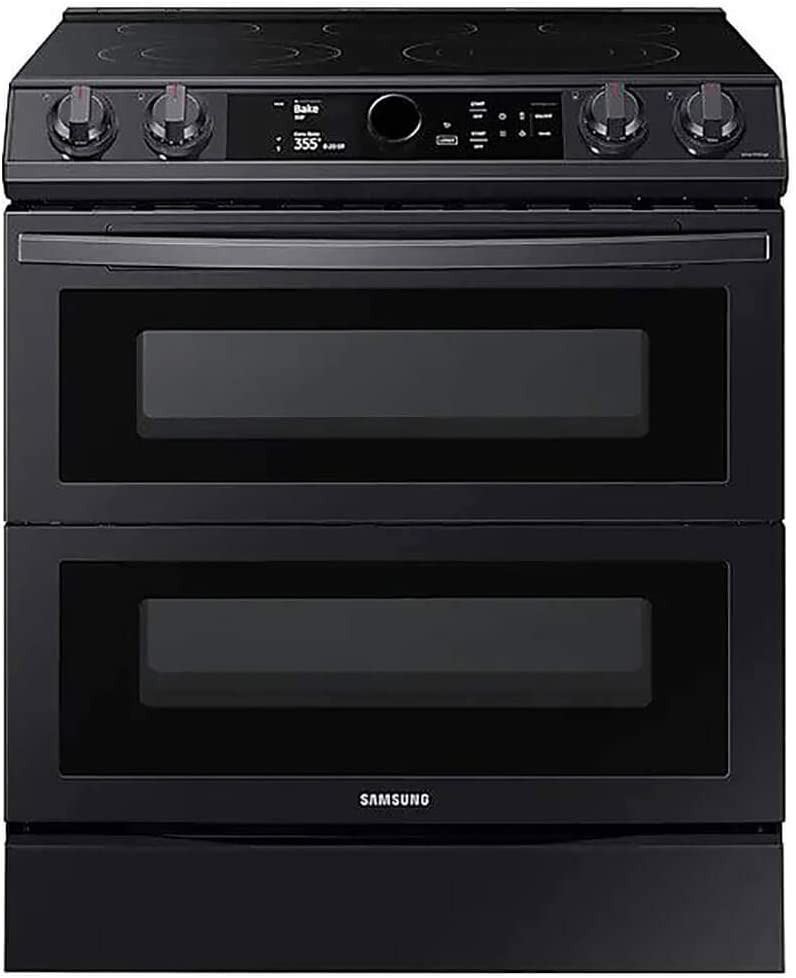 The Samsung NE63T8951SG is arguably the best-looking out of the lot with its all-black façade and modern cues. It's also a smart induction range that can be controlled with your phone or touch-screen panels. Its specialty is its oven which can be split into two cooking spaces with a slide-in partition and separate temperature controls.
Ikea Tvarsaker 404.660.06 (81) -$1400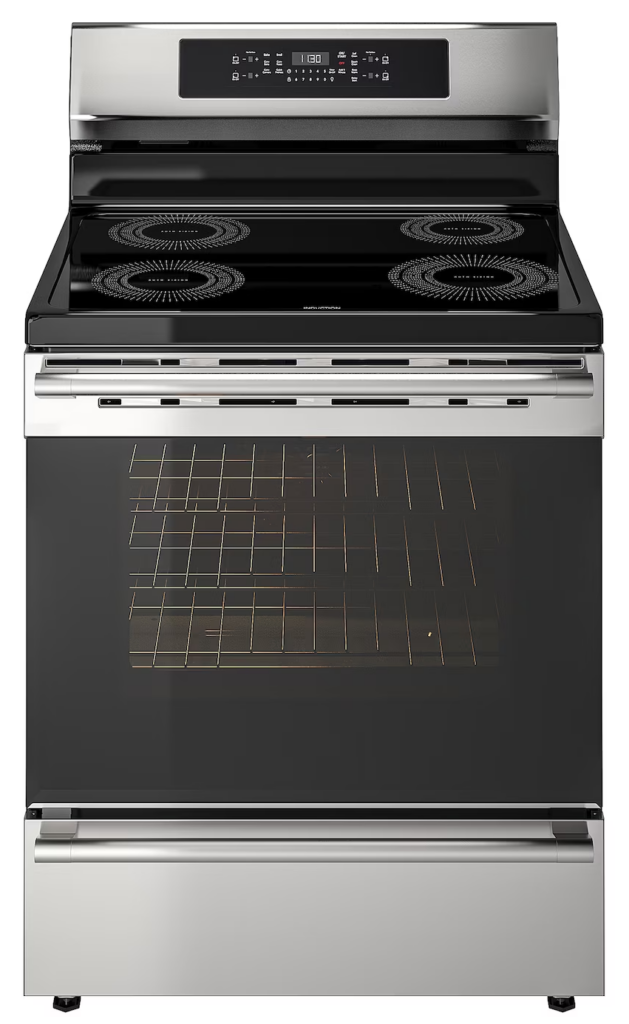 The Ikea Tvarsaker is another reasonable pick with very good capacity, cooking speed, and efficiency. Its touch controls are not limited to the oven since the cooktop also has its own screen instead of manual dials. It also has a numeric keypad for time and temperature for those who prefer a tactile approach.