Building a home gym equipped with the best elliptical machines makes it more fun and easier to exercise. Some go for a stationary bike or treadmills to provide a cardio option at home, but Ellipticals are proven to be better.
Ellipticals imitate running motion, but they aren't as taxing on your knees as a treadmill and they can help you burn more calories compared to a stationary bike. It comes in handy if you are injury-prone on your lower half, or if you are recovering from a previous condition.
However, elliptical machines can cost a small fortune, so picking the perfect model is crucial. Its also a fact that shipping and returning won't be cheap if it is on your end, so making sure that you are getting a suitable variant for your needs is critical.
Updated: January 2022
Points to Consider Before Shopping for the Best Elliptical Machines
Try it First – It's wise to find a way to try specific elliptical machines first before you pull the trigger. You might find that its characteristics doesn't suit you, or it's too big for the allotted space at your flat.
Size – Ellipticals are usually around 6ft by 2.5ft wide, but there are larger models. The length can also extend the length when it is in motion, so make sure your floor area and the ceiling height can accommodate you while you are riding it.
Ergonomics – Elliptical machines have sort of a fixed position when you are using it, so its adjustability to accommodate your anthropometrics is important. It must be able to handle your height and legs in an upright posture when hands are on the grips, while your wrists shouldn't arrive at an awkward angle. None of the moving parts should interfere with your arms, shoulders, or knees.
Exercise Intensity – Elliptical machines have variable resistances, but you should be able to pedal easily at the base setting and feel the strain of the 75% intensity. Following this range gives you room to grow with the device, ensuring its still usable when you become stronger and more fit.
High Tech Features and Programs – Some ellipticals have programs and tracking capabilities that mimic outdoor activities such as biking or hiking. This allows you to modify your workout according to your level of fitness and unique needs. Some top-end models even have cloud and social media connectivity, allowing you to store or publish your exercise results.
Safety – Elliptical machines are dangerous for kids who could get trapped between the moving parts. Make sure that your machine isn't accessible to them or placed in a room that can be locked.
Delivery and Returns Policies – Elliptical machines are big and heavy, so ask first regarding delivery and return policy fees. You might find yourself paying a huge amount for those, along with restocking fees if in case you don't like the machine or it's not suited for you.
Warranties – Warranties are important since Ellipticals are moving machines that need to survive a bit of abuse. Some companies offer up to seven years on the parts but look for at least one year on service or labor guarantees.
Types of Elliptical Machines
Elliptical machines come in two flavors and three types which affect their usability, pricing, dimensions, and characteristics. There are models with and without heart rate programs, while there are front drive, center drive, and rear-drive designs.
Front-drive models have the wheel at the front while the pedals glide on a track. This type is the noisiest of the three, but that's dependent on their quality.
Rear-drive models have the wheel behind the pedals, making them typically longer due to the track and roller setup is designed.
Center drive types are usually the most compact, but the pedals and the handles extend farther than the body itself. That movement can make it need as much space as the two types above.
Top 3 Best Elliptical Machines According to Consumer Reports
Vision S7100 (77) – $2,600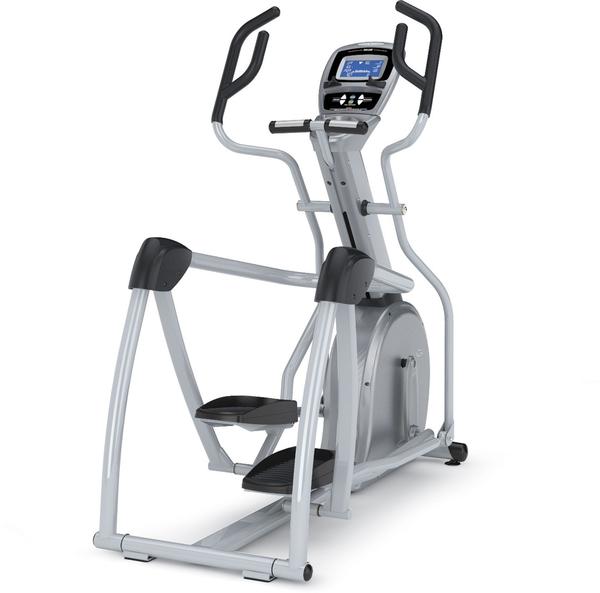 The Vision S7100 is this year's overall best elliptical machine thanks to noticeable improvements in the 2022 model and the everlasting structural design.
Pros
Simple, easy to use interface via a compact, backlit LCD screen.
Durable tubular frame
Best in class ergonomics with adjustable incline
Excellent transition and overall comfortable feel
Second control panel for general controls such as incline and resistance
The ergonomically placed pedals ensure it's lighter on the knees, ankles and other joints.
Detailed tracking of your workout and its results
Cons
Expensive
Middling exercise range offered
Sole E95S (76) – $2,200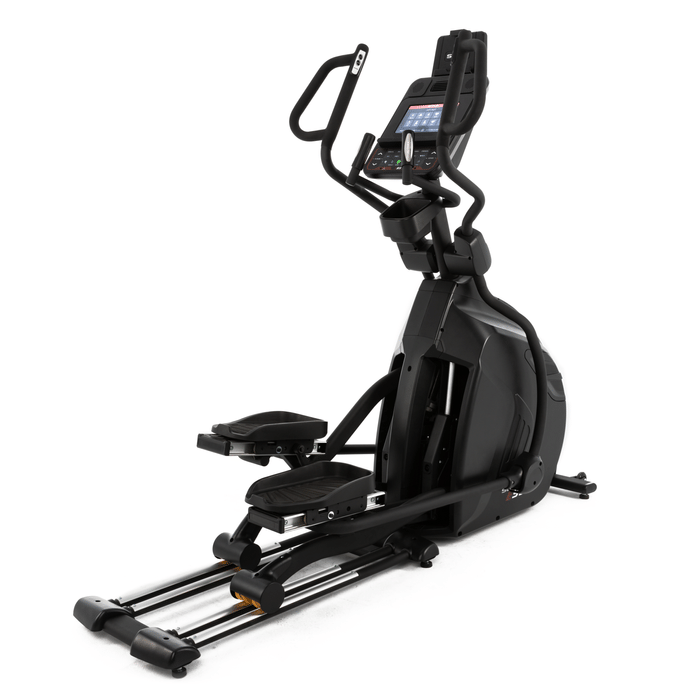 While highly rated by Consumer Reports mainly because of its intuitive controls and display, the SoleE95S is more than that.
Pros
Power adjustable stride of max 24″ and Incline make it ideal for cross-training.
The 9″ LCD screen display helps keep track of all important workout related data.
10 pre-set programs keep workouts interesting and add variety.
The gauge steel build and lifetime frame warranty make it a durable choice.
The 2-degree inward slope of the pedal ensures less stress on important joints such as ankles, knees, etc.
Cons
Cost is on the higher side
Gets noisy with regular use.
In summary, the Sole E95S is another excellent premium elliptical for home use.
Schwinn 470 (74) – $900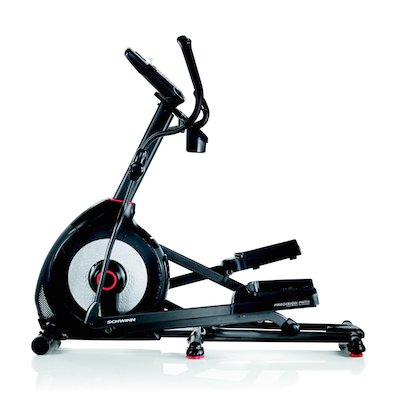 Schwinn is a brand synonymous with fitness machines and the 470 Elliptical trainer exemplifies why.
Pros
The 29 exercise programs help diversify routine.
Bluetooth allows syncing with fitness apps for easy tracking
With 25 resistance levels, you can vary workout intensity.
Backlit LCD Screen shows 13 feedbacks including heart rate, calories burnt etc.
Syncing with RunSocial app helps connect with people across the globe in real time.
Cons
Requires maintenance every 5-6 months
Though effective max incline offered is only 10 degrees
The 200-250 weight range means it's unsuitable for heavier users.
In summary, for less than $1000, the Schwinn 470 is a steal.