People nowadays rely more on high-tech mobile phones for calls even when they are home, but landlines and cordless phones are still essential. They enhance your security since the number is tied to your address so 911 operators and other emergency services can easily find you. You also don't lose signal strength or in most cases, power since it just sits there hardwired to the wall.
It is also a fact that cordless phones have better audio quality and clarity than mobile phones. This is important for users that have impaired hearing or if your household is busy and noisy and if it's for your home office. New models often last up to 8 hours of talk time, so it won't simply power down like some mobile phones after a long chat.
Tips for Buying the Best Cordless Phones
Essential Features – It is best to look for essential features like caller ID, speakerphone, or even a headset jack before buying cordless phones. Simply check the box if the model has all your non-negotiable features, or better yet, check it out online first since most spec sheets and user manuals are widely available there. Note that the number of features will also increase the price, so be prepared to spend top dollar if you want it all.
Extensions – Most cordless phones have single handsets plus a base or a station in the box, but others with more handsets are also available. However, some premium versions also have a charging cradle for the extra handsets to make it easier for you to place them in different areas. It is also possible to replace just the base or the handset itself so you don't have to buy another set.
Performance – The most important aspect of the best cordless phones is the voice quality, followed by battery capacity. A good handset will sound very clear with sufficient volume, and it should last at least 8 hours or so. Some models have proprietary battery packs which can cost between $10 to $25 to replace, but cheaper models often use AA or AAA batteries.
Battery Backup – One downside of cordless phones is that they need electricity to function since they are plugged into your wall socket. There are models out there that have battery slots for this scenario and there are others that can use the handset battery's power. This is a must-have if you live in stormy areas and states.
Accessibility – Some models are designed to have enhanced usability like easier-to-read displays and buttons, visual ringers, and even talking caller ID. They will be handy if you live with disabled or elderly relatives who most likely will be at home answering the calls during the day.
Keep Your Old Corded Phones! – Remember, old and corded phones still work even if the power is out if the phone lines are still up. The only time where it won't is if you are connected to a fiber network since it still has to go through your modem most of the time.
With or Without Answerers – Cordless phones with answerers or answering machines are often more expensive and complex than simple phone models. However, the former also has more features like remote access or a more functional mailbox. They are also typically bulkier, so take into consideration where you will put them before pulling the trigger.
Best Cordless Phones with Answerer 2022
AT&T TL86103 (77) $150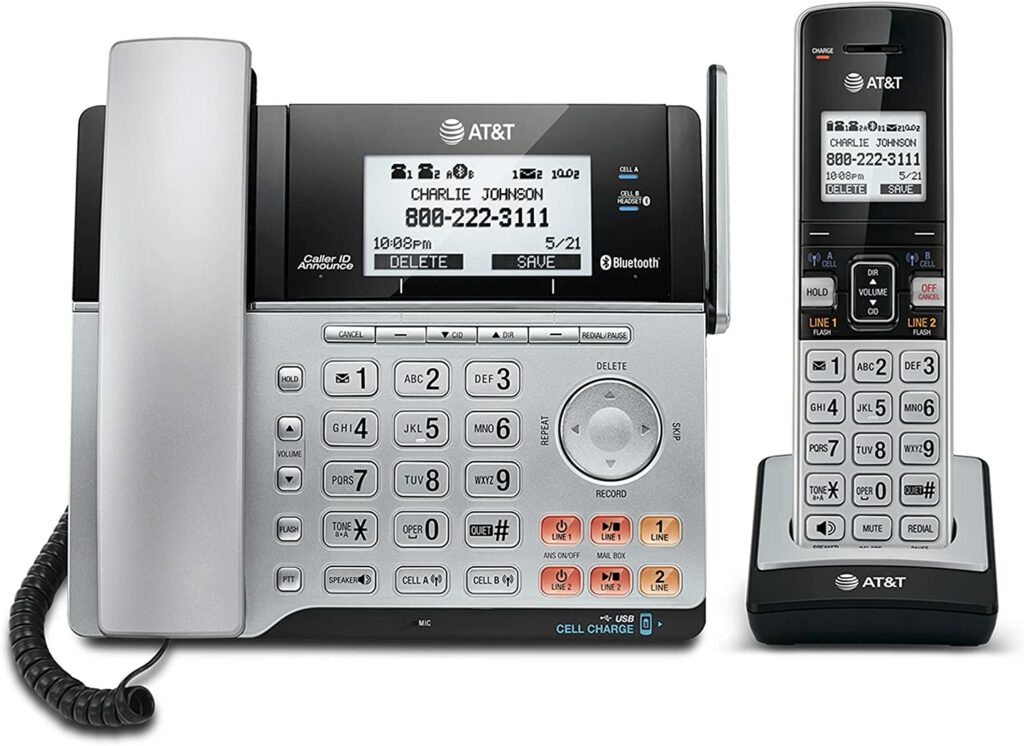 The AT&T TL86103 has a lot to offer such as a dual-mailbox answerer system, and intercom, plus it can be connected to phones and wireless headsets via Bluetooth. It's also expandable to 12 handsets, so it's a good choice for big homes and small businesses.
Panasonic KX-TGE475S (77) $150

The Panasonic KX-TGE475S is another feature heavyweight that can sync with smartphones, and it can be supplemented with additional headsets as well. It has excellent range and battery life, so its ideal for large and busy spaces.
Panasonic KX-TGF382M (76) $80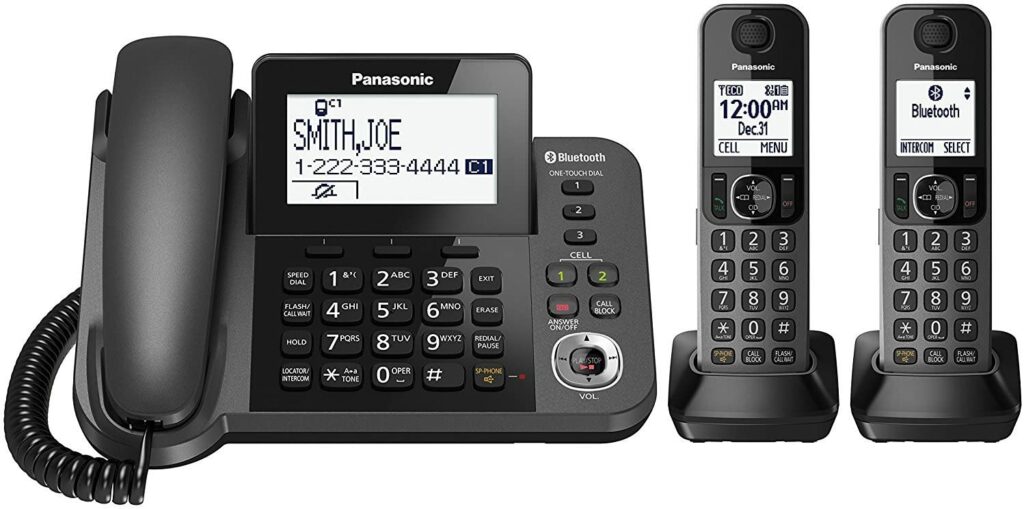 The Panasonic KX-TGF382M is of a few reasonably-priced expandable cordless phones that have Link2Cell Bluetooth functionality. It also has a battery backup that can last up to 12 hours of talk time when the power goes out.
Panasonic KX-TG9541B (75) $115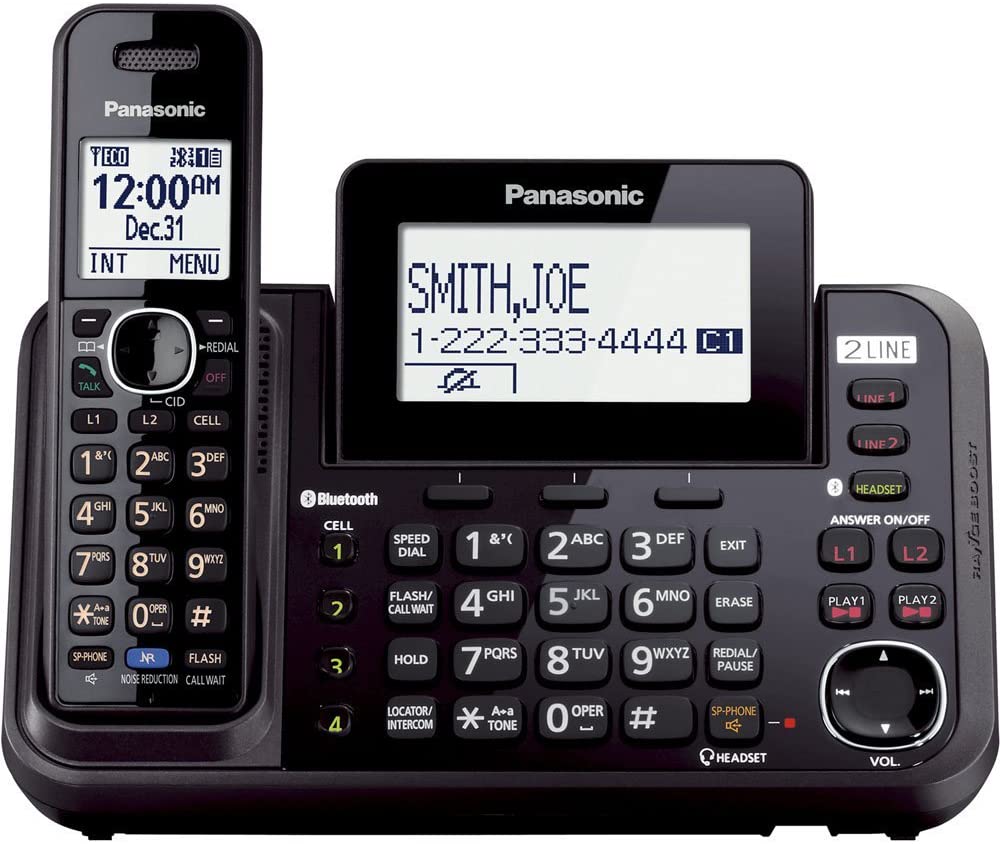 The Panasonic KX-TG9541B is a 3-way conference phone with a built-in answering machine and Bluetooth connectivity. It also has a USB charging slot which allows you to answer cell phone calls on the cordless handset while it's getting topped up.
Panasonic KX-TG9542B (75) $200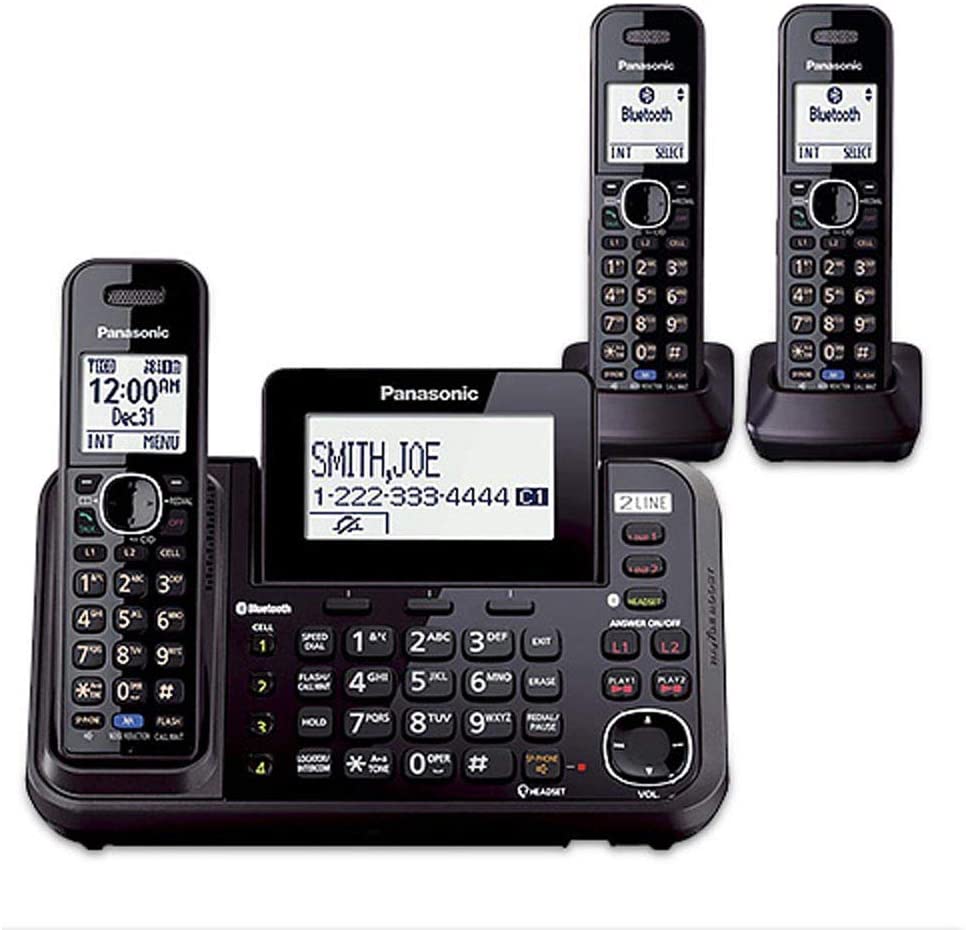 The Panasonic KG-TG9542B supports up to six handsets plus your cell phone via Bluetooth Link2Cell connectivity. It has 30% more battery life than competitors and it supports two lines for extra flexibility.
VTech CS6949 (75) $130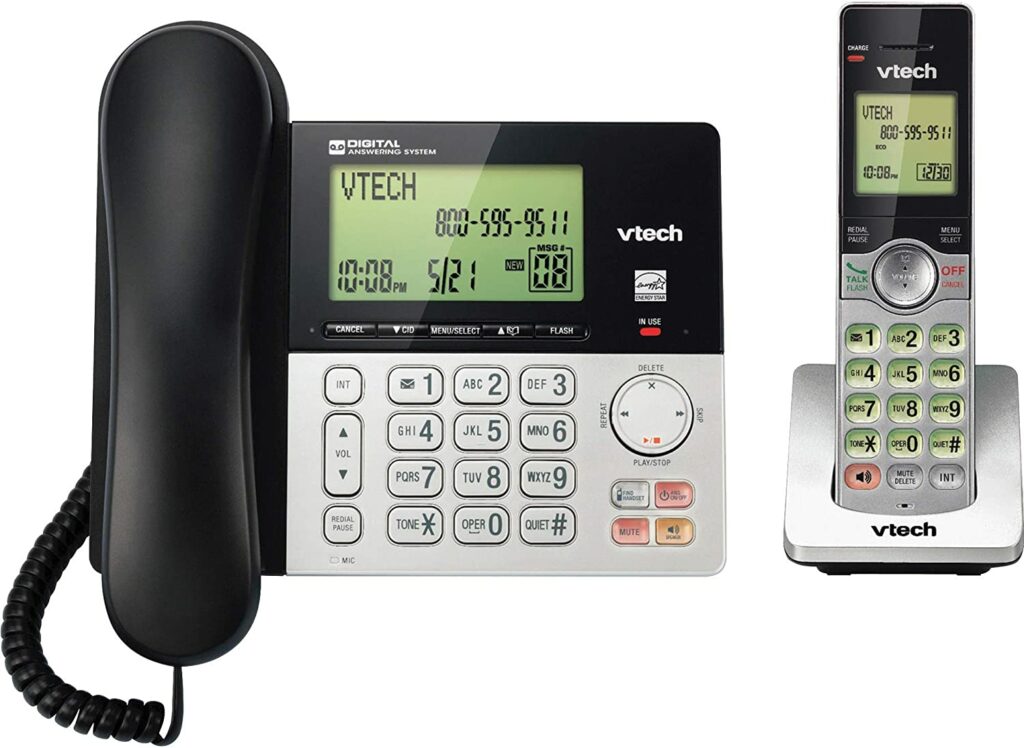 The VTech CS6949 features a digital answering system with up to 22 minutes of message recordings. It also supports Line-power Mode which lets you receive calls even when the power is out.
VTech VC71510-109 (73) $120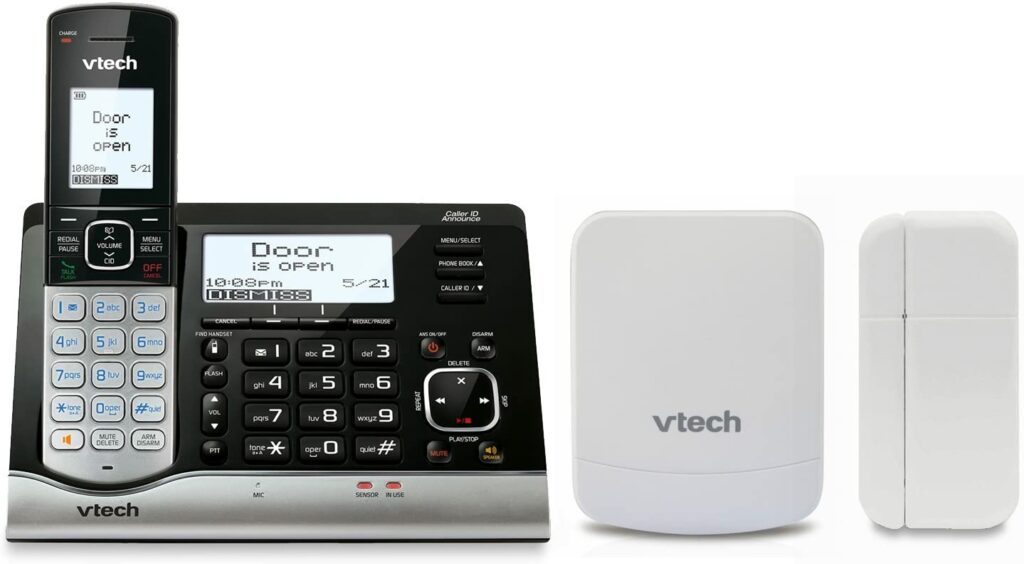 The VTech VC71510-109 is a reasonably-priced alternative to some premium models that also support the aforementioned essential features. It can link to and charge a phone, plus it still works even if the power runs out so it's great for emergency-prone areas.
VTech CS6649-2 (72) $70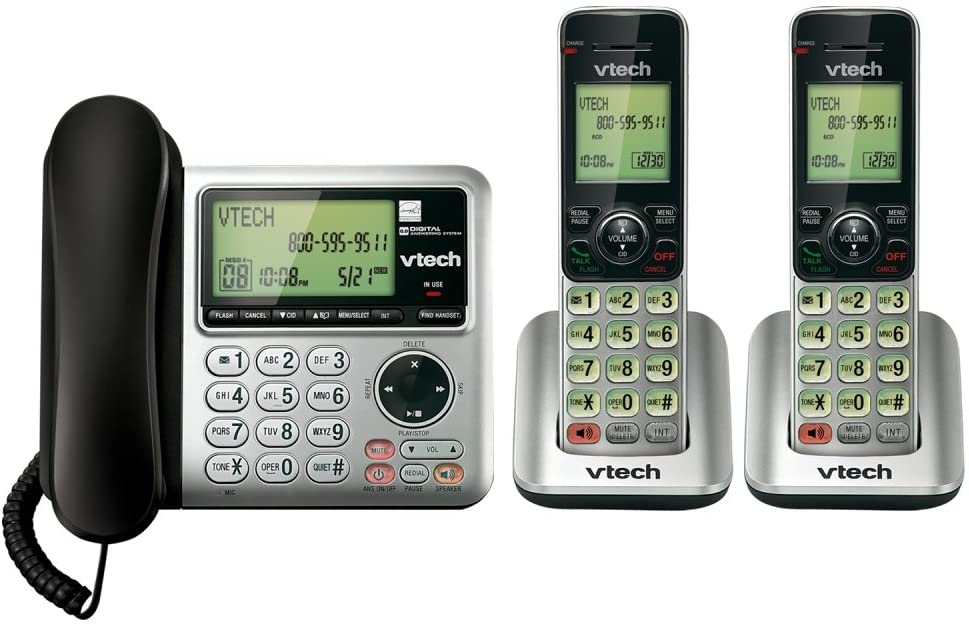 The VTech CS6649-2 is one of the cheapest cordless phones available in the market that can be expanded up to 5 handsets. It is missing a power backup, but it has a built-in cordless answering system with caller ID and call waiting.
Best Cordless Phones Without Answerer
AT&T EL51103 (68) $25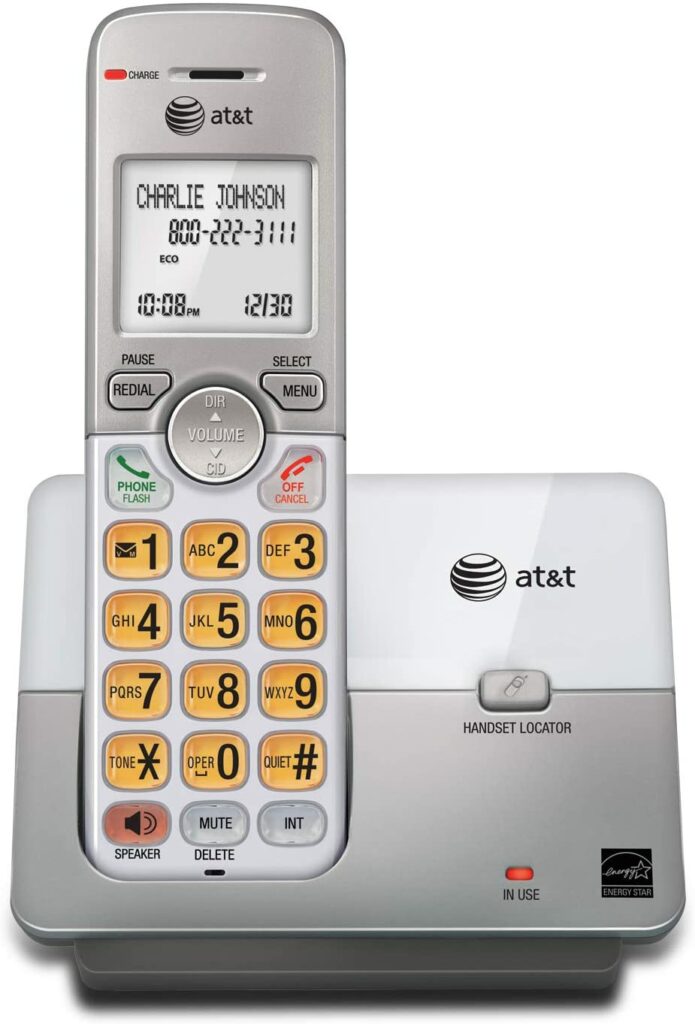 The AT&T EL51103 is a great buy if you need a simple phone that works great as a stand-alone kit for private areas of your home. This model has excellent sound quality so voice clarity is top-notch, plus it has large and crisp keys for easy use.
AT&T EL51203 (68) $35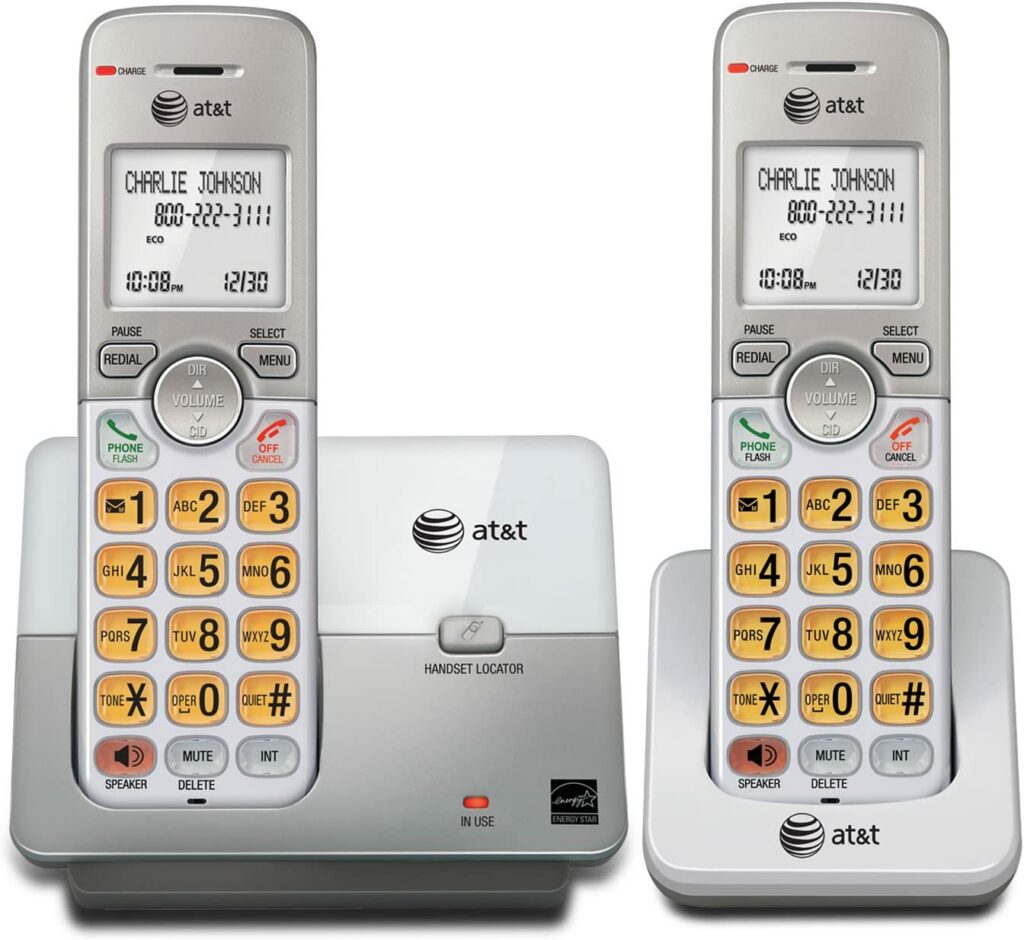 The AT&T EL51203 is essentially the same as the model above, but it comes with two handsets and an extra charging base for ten bucks more. This pick is ideal for moderate sized-homes where answering machines aren't necessary, but good sound quality and easy-to-use features are a must.