Battery-powered lawn mowers are great choices if you want a conscious green choice that uses electricity instead of gasoline. You don't have to deal with the latter's foul smell and pollution since you only have to charge the battery packs inside them. It is also more sustainable due to its mulching capabilities which lessens your overall carbon footprint along the way.
Mulched grass by the way is clippings from your lawn that are left to disintegrate back into the lawn. They are good for the grass because the decomposing bits reintroduce vital nutrients such as nitrogen into the lawn. It's a natural fertilizer so you don't have to buy the processed stuff, plus you don't need to have them collected and transported.
Consumer Reports is a trustworthy source for battery powered lawn mowers and tractor ratings since they follow strict procedures in reviewing them. They don't accept sponsorships from the brands to avoid bias and each product goes through a rigorous lineup of specific tests. Each mower's run time, discharging, and even its mulching capabilities are tested to give you an accurate picture of the user experience it offers.
Consumer Reports tested various types to give you the best options, but they also added the best alternatives in case the best performer is too expensive or unavailable. Its mostly just the size of your lawn that will determine which type is best for you, so we've narrowed down the best picks to help you choose.
Battery Powered Push Mowers – Best for Lawns Under a Quarter of an Acre
Ego LM2135 – (84) – $699 – $800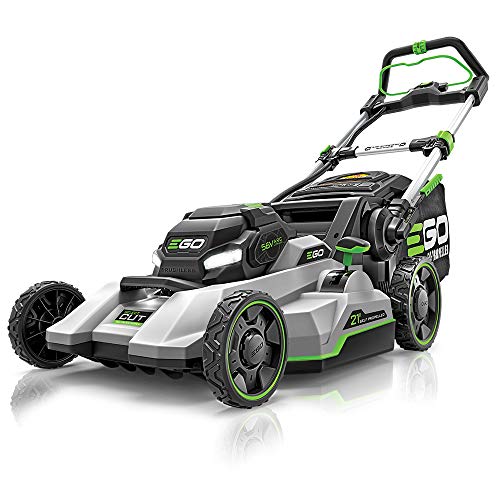 The Ego LM2135's primary benefit versus competitors is its very quiet for both the user and the neighbors. It is pricey, but it offers excellent mulching and even cutting, plus it's very easy to handle for everyone. Its side discharging and bagging are efficient so you can finish a good-sized lawn or backyard quicker.
This battery powered mower also lasts up to 50 minutes, so it can cover a quarter of an acre in one go. It can also charge to 100% in just an hour, plus that battery unit is covered by a 3-year warranty while the mower has up to 5 years. The Ego LM2135 has earned very good ratings for reliability and excellent user satisfaction, making it the top pick compared to several other push mower offerings.
Ryobi RY401170VNM (78) – $299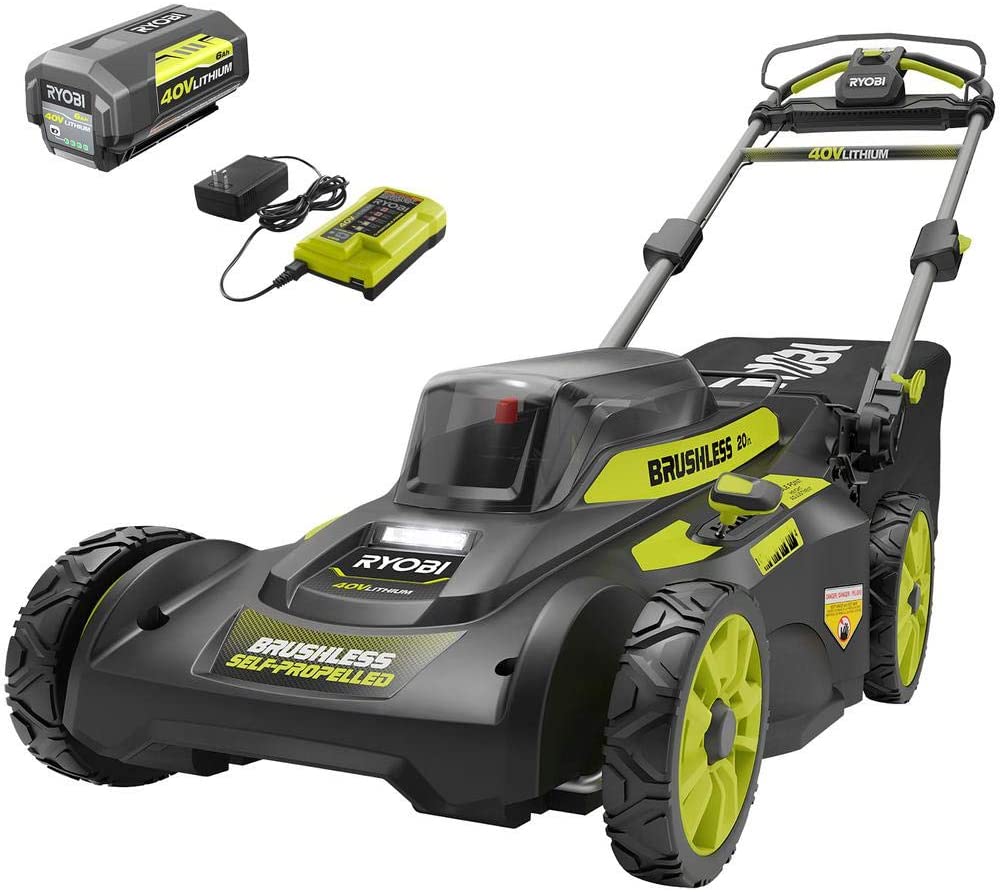 The Ryobi RY401170VNM is the top value pick with a very good overall rating from Consumer Reports. It is not the absolute best, but it cuts good and even, and it's reasonably quiet as far as most battery powered lawn mowers go. It has a 5-year warranty as well, so you can stretch that $299 you pay for it further.
The downside with the Ryobi RY401170VNM is it only comes with one battery in the package. The power pack typically lasts up to 45 minutes so you can mow a quarter of an acre and it charges in an hour and a half. You only get one, but extra packs are cheap and easy to find online.
Self-Propelled Battery Powered Lawn Mowers – Best for Lawns Up to Half an Acre
Greenworks MO80L421 (85) $750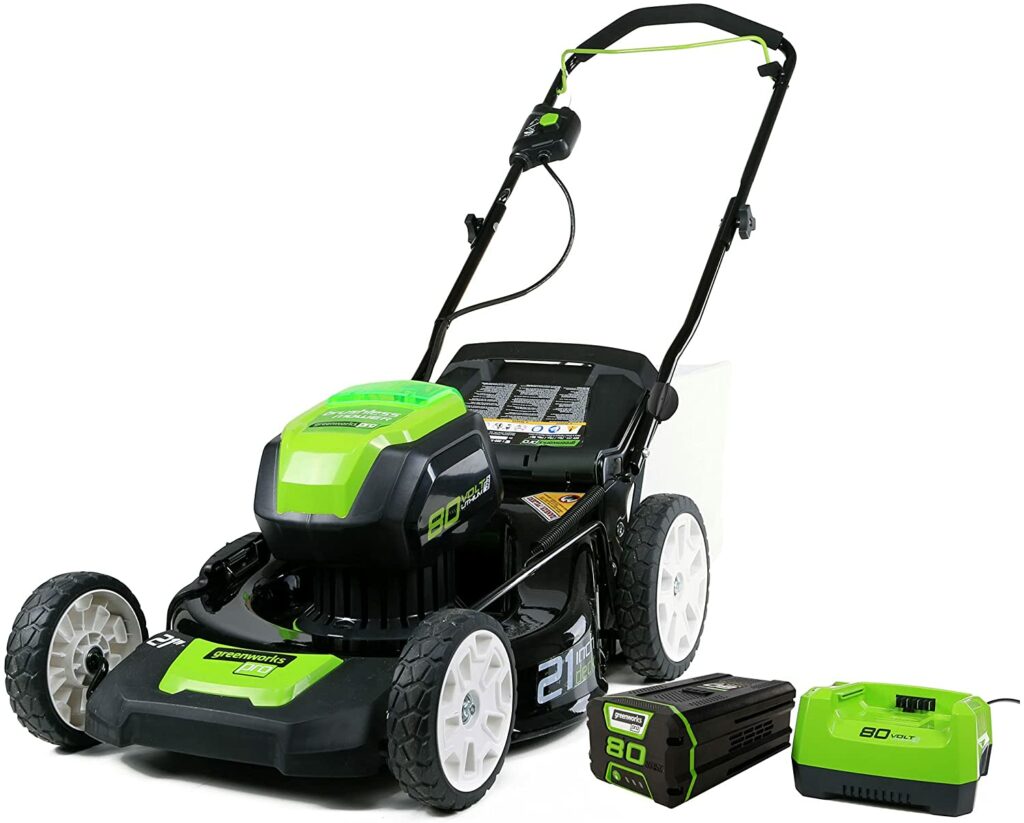 The Greenworks MO80L421 isn't particularly cheap, but you get your money's worth out of this option. It is great at cutting and mulching, and it can eat up to a third of an acre on a single fully-charged battery. It comes with an extra battery pack which will allow you to cut beyond half an acre with just a quick power pack swap while working.
Each power pack lasts up to 75 minutes, so it using up the two should be a good workout if you have a large lawn or garden. The batteries and the machine itself are covered by warranties for 4 years, so you'll get good use out of it for quite some time. this model has very good ratings for reliability, but it's a top contender when it comes to owner satisfaction.
Ryobi RY401140US (81) – $549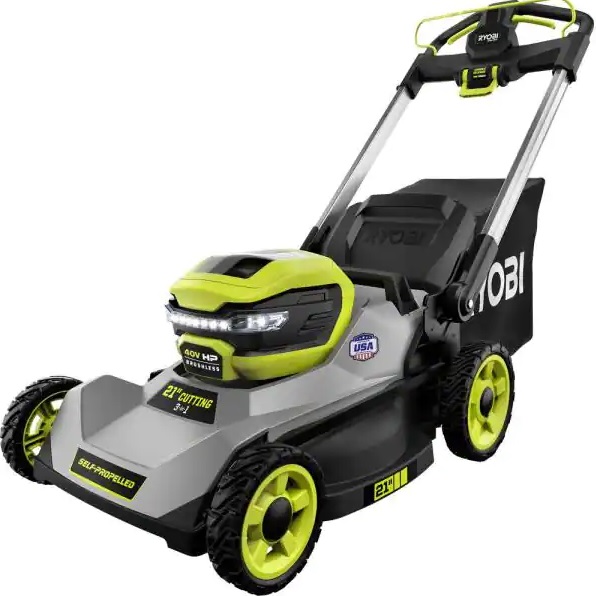 The Ryobi RY401140US is the most affordable option that has an excellent rating in Consumer Report's reviews. It's comparable to the Greenworks option above, but it is $200 cheaper at full price. It cuts and mulches great, plus it's a very efficient model compared to the other more-expensive offerings in the lineup.
The included 40V 6Ah batteries last up to 70 minutes thanks to the Ryobi RY401140US's advanced brushless motor. The rapid charger works 4 times as fast as other options, so you should be up and running in no time. Ryobi's tools use the same battery types, and they are available for purchase online and from licensed retailers, so you can get an extra pack if needed.
Riding Battery Powered Lawn Mowers – Best for Large Lawns
Ego ZT4204L (86) $5499 – $6959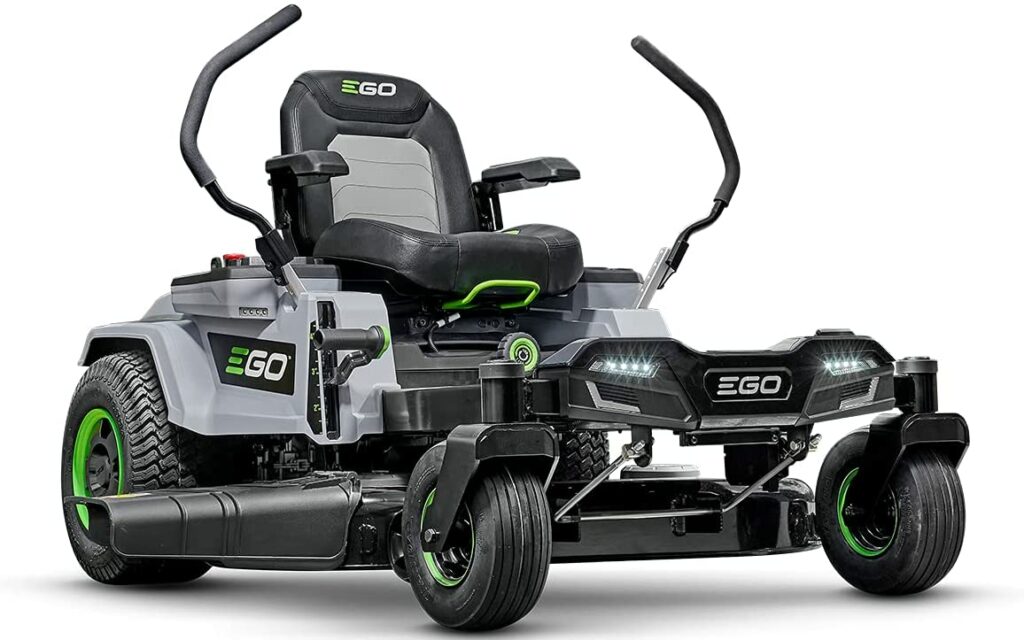 The zero-turn Ego ZT4204L is a pricey, yet class-leading and impressive option for mowing in style. It's excellent at cutting and mulching, plus it's very easy to drive compared to other riding mowers. It is also considerably quieter since it doesn't have a gas engine. It has a narrow deck so mowing can take more time, but it has a high-back seat, and it can cut in reverse.
The Ego ZT4204L's battery pack lasts up to 80 minutes, so it can mow an acre or so depending on the terrain. Charge time takes a bit longer at 3 hours from empty to full, but 80 minutes isn't bad especially if the mower is this big. zero-turn battery powered mowers are new in the market so customer satisfaction and reliability haven't been measured, but you are covered for 5 years by Ego's warranty.
Ryobi RY48140 (80) – $5499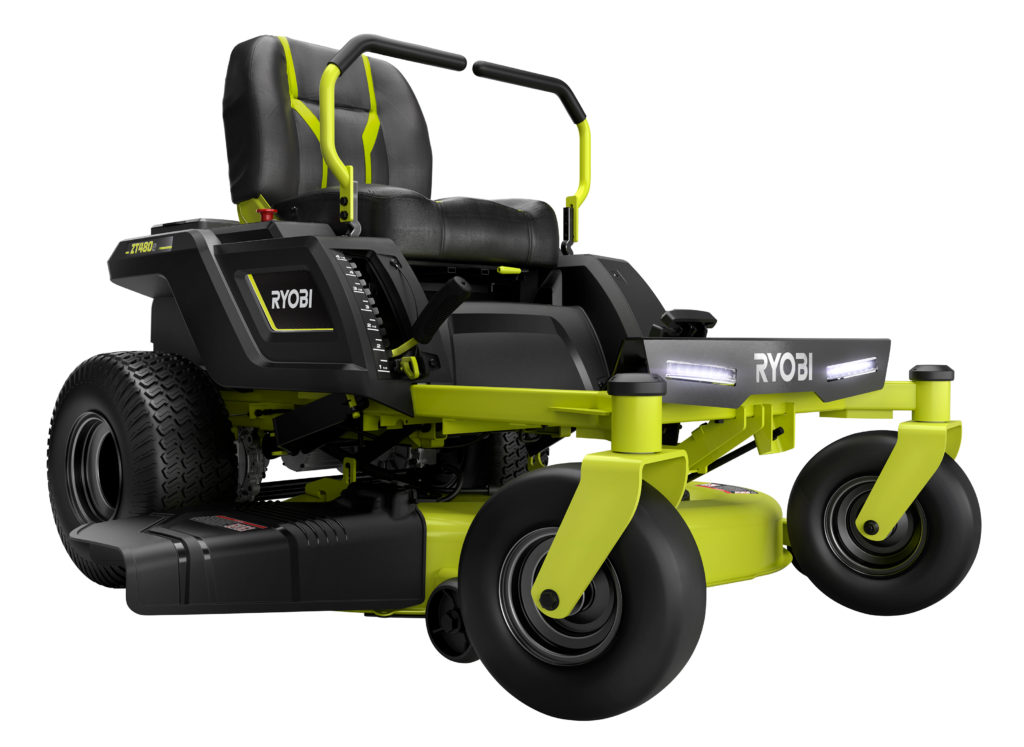 The Ryobi RY48140 is your best pick for riding battery powered lawn mowers even if it is not the cheapest option that was tested by Consumer Reports. It has a wide 54-inch deck so it cuts more grass than the other battery powered mowers in the Consumer Reports database. Its battery pack also lasts close to 2 hours which is enough to last through 2 acres of grass.
The downside with the Ryobi RY48140 is its battery type (lead-acid) and its very long 20-hour charging time. Most options use lithium power packs which are faster and more powerful, but they are pricier when the capacity is at this level. This model also has a zero-turn design for faster transitions in the field, but its not yet a proven platform since its new to the market.